Articles
It has been a month since the devastating effects of Super Typhoon Yolanda left many parts of Southern Philippines destroyed. Over the past 4 weeks there have been some amazing stories of courage, love and fortitude from the affected areas – as well as an out-pouring of support from around the world. There can be no doubt that Springboard, as a group, has met and connected with some wonderful people achieving great results … and by sharing knowledge, trucks, boats and planes we have been able to distribute everything that has been donated to us to date. Whilst there will always be negatively perceived press and some local politicians who are perhaps not as honorable as others, by focusing on the positives and working with like-minded people Springboard can assure you that your donations and goods DO reach their intended destinations because we ensure that there is always someone we trust on the ground to make certain it does.
Caroline Cliff traveled to Eastern Samar with a medical group and is off to Leyte today .. we will follow up both these visits with photographs in the next newsletter. The truck we helped fill for Jacquie's fabulous trip to Eastern Samar arrived safely and was distributed. We hope to be able to continue helping this community into the New Year.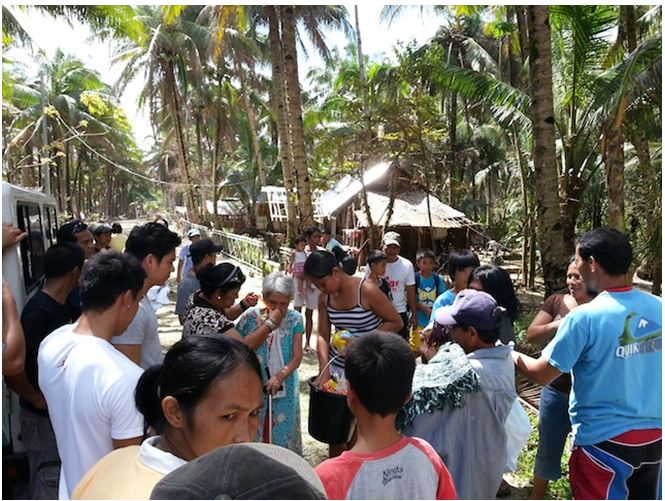 … so our sincere thanks to the Dragons, the Australian Rules team in Hong Kong and the International School Kuala Lumpur who are sending over 2 lots of boxes filled with goods they have collected. The Sytenco Foundation gave a huge donation of tinned biscuits which we gave to the Operation Santa team for their trips to the smaller island communities. With the help of Kelly Lowe in the UK, the children at her school are having a dress-down day on Friday to raise funds. We cannot mention you all at this point in time, but we are keeping a list, so in the not too distant future we will post a BIG thank you to all those who supported our efforts so freely. Your efforts are gratefully appreciated. On Friday, 5th December, we sent our own 18 ton, ten wheeler truck to Isobel in Leyte which was followed by a small medical team and hardworking laborers to help unload, pack and distribute food and medical aid. The truck stopped in at Alabang first to be loaded with building goods, ropes, wheelbarrows, buckets, shovels, tarps, nails, hammers and more. Then onto the home of Chairman, Sarah McLeod, in Makati (luckily the Village has been very
accommodating with even a few of the guards helped load!) With volunteer Leanne Jardine at the helm, some amazing dedicated ladies ('packers') had been 'invited' to come and make sense of the stores still in Sarah's garage as well as piles from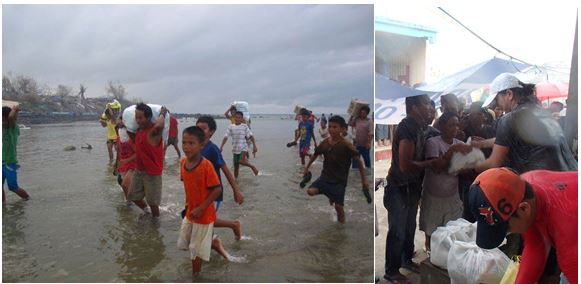 Volunteer Alison Henderson's "the dropping zone" house. Their 'packing' was finished and completed in record time!Whilst packing and loading was ongoing, a major shop was done to augment what was already there to ensure that the grocery bags were just about equal. Additional goods kept arriving from 'friends' in Manila, like Schenker which sent a van load of tinned foods and clothes. Just when we doubted we could get anything else onto the truck, The Union Church contacted Volunteer Caroline Cliff to find out if there was still space. 6 van l oads later we had an additional 1 ton of rice and over 100 boxes of clothes and goods! What a lovely ending to an already wonderful day. Last to go into the truck were the medical supplies: over 20 boxes of various medicines for the doctors and nurses to use.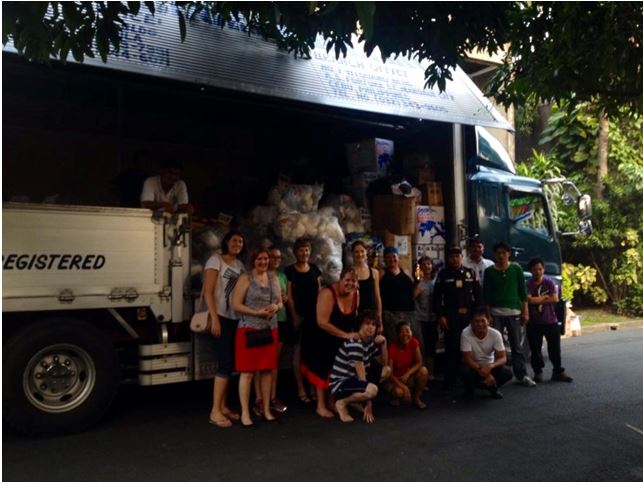 It was a very satisfying end to a 14 hour day when we waved the truck off at 9.30pm !
789 family pack of clothes
324 baby packs 
1242 food packs 
62 additional rice packs
2500 pot noodles
100+ boxes of misc. food
42 bags t-shirts
27 bags various shoes 
4 large boxes towels and sheets
2 boxes torches 
40 boxes of medicines and soap
5 boxes of toys and teddy bears 
37 wheelbarrows 
550 tarps
500 Hygiene packs 
200 hammers 
1000 metres of rope
Shovels and more! 
40 KG Nails 
Buckets ( lots! )
400 bars soap 
Rice – 1.8 tons! 
10 boxes Blankets 
20+ Boxes of specially bought meds