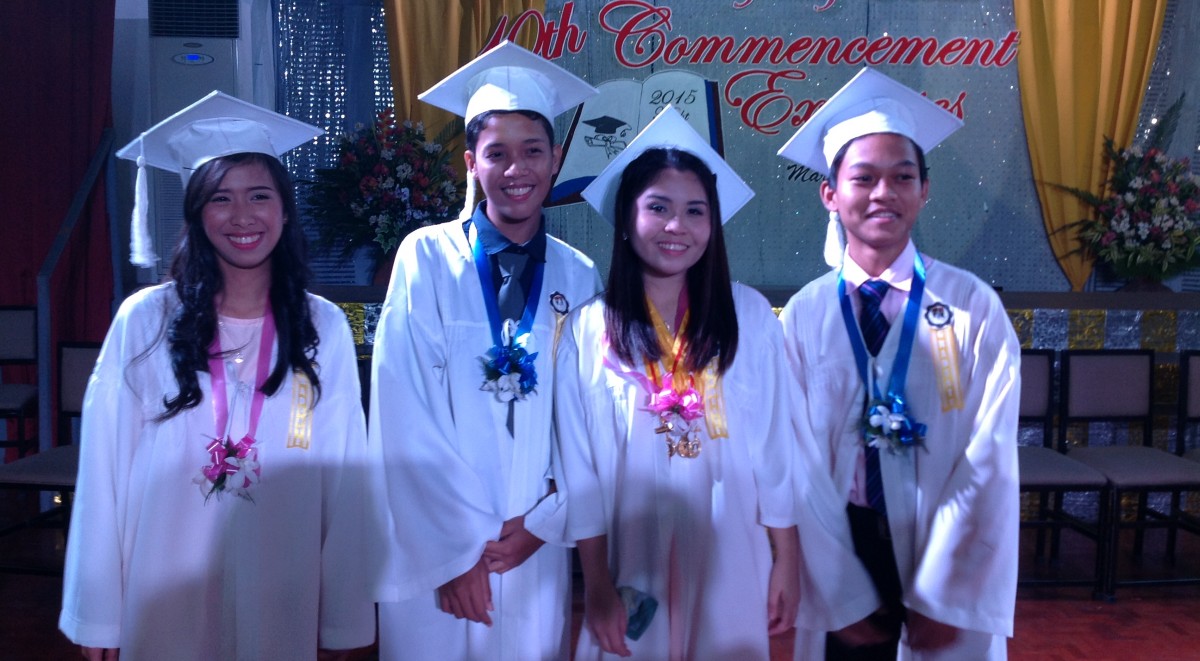 Siena College of Taytay recently celebrated their 10th High School graduation ceremonies held on March 27, 2015. Ninety students received their certificates in the midst of their families and friends.
Of these ninety students, we are very proud to announce that a total of 54! 54! Students whom were supported from our various scholars' sponsors also graduated. What a fantastic accomplishment!
We are also proud to announce that from those 54 graduate scholars there was one very bright star, who was an over achiever despite her circumstances. CherryBelle J. Hernandez received the certificate for the Academic Awardees and received honors during the ceremony for the best in deportment. CherryBelle, provided the speech of "Words of Gratitude," thanking her family and her sponsors. She stood up in-front of the microphone with her head held high and an immense smile. Attending the ceremony was even a challenge for CherryBelle having to borrow clothes from her cousin and having to borrow shoes during the ceremony as her shoe broke moments before her speech. In spite of these challenges she was able to attend her high school graduation receiving her awards with a nothing can stop me attitude and being extremely grateful to be graduating.
CherryBelle J. Hernandez is also an example of how scholar's sponsors can change a person's life around, by giving them the tools of an education. CherryBelle's mother Mrs. Charity J. Hernandez, is a single mother who works everyday and attends Siena College every Saturday, because she is part of the University scholars. Mrs Charity J. Hernandez was also part of her daughter's graduation ceremony, by delivering a speech representing the parents. Regardless, of their situation with the help of the education scholarships CherryBelle got a high school education and Mrs Hernandez is also getting an education. In which we have no doubt that they will become successful.
We are very grateful for all our sponsor scholars for giving hope to these 54 young individuals in the Philippines through investing in their educational opportunities.
"The idea of being able to really make a difference in the lives of children is something Springboard Foundation cannot ignore.  When we come across children, we feel compelled to become sponsors, and the satisfaction of knowing that we are creating a brighter future for even just a few children is a reminder that there is good in the world and it's up to us to make a change".
"Education is the most powerful weapon which we can use to change the world" (Nelson, Mandela).