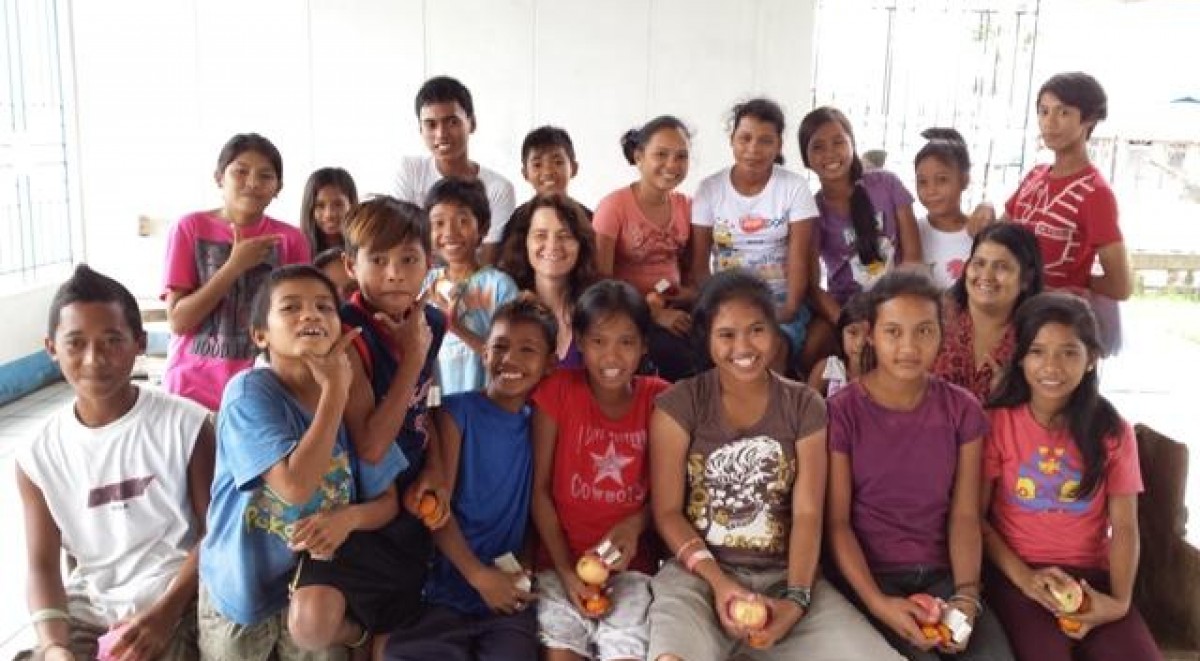 It was only after two days of returning from our visit to Tacloban that tears started to come. I was having acupuncture in China Town where I was lying with needles in my arms who were crossed over my chest. And what appeared to be for no reason at all tears started to stream down my face. I couldn't move my arms with the needles inside and so I lay silently and let the tears flow. I didn't know what to say when people asked me how the trip to Tacloban went. All I knew was that I felt heavy, very heavy and totally drained.
The heaviness of more than six thousand deaths is felt in the city.
The sadness of hundreds of thousands who lost their loved ones engulfs the city like a cloud. Mums and Dads missing their daughters and sons who they played with and tugged in to sleep safely through the night; sons and daughters missing their Mums who comforted them in their arms when they were sad; sons and daughters missing their Dads who kept them safe and strong; brothers and sisters missing each other to play, to laugh and talk with; friends yearning for each other in times of great need. So many were ripped away by the ravaging water and the thundering storm.
Even after driving for a good hour the picture never changed. No houses are left standing, sometimes we see a church or school left, often without a roof and many walls broken. Big concrete buildings have crumbled together, their concrete structure lie as if a giant monster had mangled them into a tight knot.
Trees are snapped in half, giant hardwood trees lie uprooted over houses and land. Even the cemeteries are a picture of devastation.
The destruction  It is now two months after typhoon Haiyan/Yolanda made landfall on the Philippines. The strongest typhoon ever recorded in history to make landfall. People have been provided with tents for shelter but we shouldn't become complacent because of this. These tents are very hot during the day and wet when it rains. They are meant for shelter for a short time and normal life is not possible until the families have a safe home again. Businesses have been destroyed, the Philippine newspaper Inquirer reports that only 20 businesses have applied for permits this year from the 15.000 that got permits last year. Schools have opened but many still function as evacuation centers as well.
One of the establishments that was damaged Re-enrollment in schools is poor with only 35 to 40% of previous High School children attending school now. Livelihoods have been destroyed; may it be the fishermen who lost their boats, coconut farmers who have no more trees to farm or small enterprises that have seized to exist. There is much to do for life to become normal again for the people of Tacloban.
One of the schools that was damaged  We attended cluster meetings in the city to find out what is happening in the bigger picture. United Nations Development Programme UNDP clusters for hygiene, health, house reconstruction, child protection, food security and safety meet daily. The World Food Program is providing food to those in need and tents have been distributed. The police force is visible and keeps peace and order. Cash for work programs have worked well to clean the roads of the city. People are hired by NGOs and the Government to clean the roads and their village from the masses of debris. Korean soldiers are busy every day driving the streets with heavy equipment, picking up garbage and debris and hauling them
away to designated dumping grounds. Now the reconstruction must take place with urgency.
Springboard Foundation has identified to Barangays wherein we will work. Barangay Bislig in
Municipality of Tanauan and Barangay Quilao in Municipality of Tolosa. Here our local partner Hope Worldwide has provided a child friendly space and got to know the communities and the local leaders. In the Barangay Bislig of Tanauan (40 minutes drive from Tacloban city) we meet Kagawad BebsCastaneda. He walked with us through Bislig, a small village of fisherman right on the ocean, and told us their story.
Barangay Bislig in Municipality of Tanuan He is a trained rescue worker and acted quickly when he heard about the big typhoon that was coming towards them. He instructed the people in his care to evacuate their home and go inland to higher grounds. He laments that nobody understood what a sea surge was, not even he himself. But most of the people listened to him and went inland. Others stayed nearby and were caught by the wall of water racing through the land. They held on to trees and climbed up anywhere they could. 27 of the 3000 people of Bislig lost their lives that night. Many sought refuge in the local church and Kagawad Bebs was able to save many children by lifting them up into the ceiling of the local church. The ceiling is 3 stories high and he built a tower of men handing the children to one another until they reached the hole in the ceiling to climb in. By a miracle the roof of the church stayed intact and the children were saved. Meanwhile the others clung to the iron grills of the windows of the church while the water rushed with might through the village destroying everything in its path.
Kagwad Bebs held his 5 year old son tight in his arms while they both clang to the iron grill of the church window. He decided that if he couldn't hold on to his son he would let go and die with him. For him, as for the others, it seemed the end of the world had come. Surviving the typhoon and the sea surge was one thing, surviving the days after another feat and getting back on their feet now will be the greatest challenge. There is a German saying: "In der Laenge liegt die Last" "It is the length of time that makes the burden". And this is what the people are experiencing now. They don't know where to start. Everything has to be rebuilt. A lovely young man points to a concrete floor with beautiful tiles flat on the grass. "That is all that is left of his house" he says.
Despite all their hardship they still have a smile for us. Maybe we provide a little break in their daily heart-ache, an ever so slight bit of entertainment. The resilience of the people of the Philippines is admirable. They are willing to take up the task to rebuild their lives, their schools, their livelihoods and their communities. They need our help.
Bringing Hope Springboard will work with Hope Worldwide to provide material to rebuild their homes (12.000 Pesos each) , put roofs on their schools (380 Pesos per GI sheet plus 120 Pesos for wood, nails, etc.), provide a safe centre for the child friendly space of Hope Worldwide (75.000 Pesos each, 3 Child friendly spaces are needed at this time), provide materials to rebuild their boats (20.000 Pesos each) and make their fishing nets (5.000 Pesos each), we will provide engines for their boats ( 12.000 Pesos each) and vegetable seeds for the garden (50 Pesos for a set of 5 fast growing vegetables and seedlings) and piglets and chicks to start their livestock again, we will provide roofing material for their school roof and a basketball hoop so they can play. We hope to be able to build a playground for the children and will provide alternative livelihoods for the coconut farmers. Even if they are given coconut tree seedlings it will take year before they bear nuts, until then they need another source of income.
We also visited Ormoc and though there are many places where schools are damaged and roofs are missing we feel that we are more need near Tacloban. Ormoc looks like it's well on the road to recovery. Businesses seem to function well, the people cleaned up and life can go on there.
We thank the staff of Hope Worldwide William and Russel who guided us around the city and
introduced us to the people they work with. We also thank OCHA and the World Food Program who made us feel welcome to join their meetings and gave us much information and many maps to find out more about the strategies to help Tacloban.
The team in Tacloban We would also like to acknowledge all those who have donated from the within the Philippines and overseas – families who used to live here; groups who have heard of us and our work and like what we do. We have been overwhelmed by the support we have already received as well as those that have committed to the ongoing relief efforts, medical missions and the future rebuilding of communities and livelihoods.
In kind and cash donations can be dropped off at
1. 15 Melbourne St. Merville, Paranaque or call us to arrange for pick-ups. Call 8215440/ 343 3309/
09228396412
2. 7 Sabio Street, Ecology Village, Pasong tamo , Makati
Transfers can be made to:
Account Name : Springboard Foundation, Inc.
Bank : Hongkong Shanghai Banking Corporation Limited, Makati Main Branch
Address : G/F The Enterprise Centre Tower I, 6766 Ayala Avenue cor. Paseo de
Roxas, Makati City, 1200, Metro Manil
Swift Code: HSBC-PHMM
Peso Account # 000179069040
US Dollar Account # 001060458130
Canadian Dollar # 001060458131
GBP Account # 001060458195
EURO Account # 001060458133
Account Name: Springboard Foundation, Inc.
Bank : Bank of the Philippine Islands, Magallanes South
Swift Code: BOPIPHMM
Address : Lot 6, Block 5, Paseo de Magallanes, Makati City
Peso Account # 0081059209
Please scan and e-mail the deposit or transfer slips to info@springboard-foundation.org so that we can send you an official receipt.
Children of the Youth program of Hope Worldwide participating in the trauma care- and psycho social programs in Barnagay Bislig, Tanauan City, 40 minutes drive south of Tacloban with Annette during the visit of Springboard Foundation