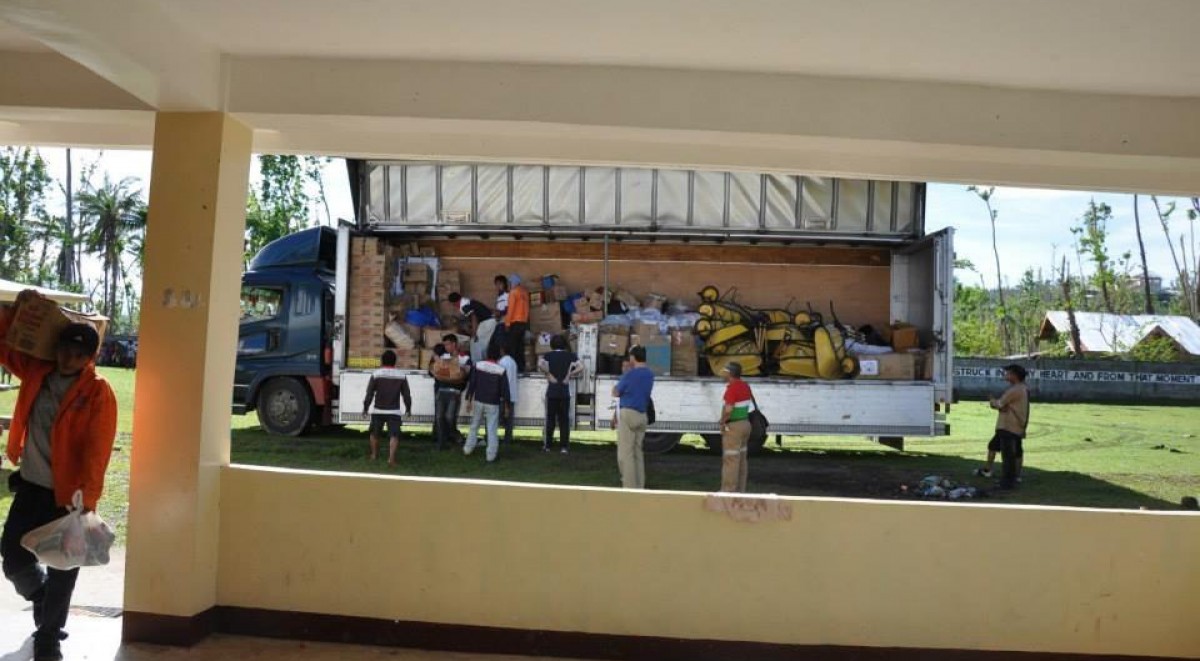 Medical Mission to Isabella, Leyte
Just before Christmas we were able to pull off one of the biggest deliveries of goods in an 18 ton truck, the support of the different women's groups in the Country, the Union Church and private donations meant that we were able to send a truck with not just goods, but also meds for our largest medical mission. Below is personal account of the team and written by Kitty Martinho one of the volunteers. The journey to Leyte was not easy but the complete satisfaction of a job well done was apparent in all who went.
As the work continues for the rebuild of the area's most affected we can begin to see lives that are changed again for the better and families getting back on their feet to take care of themselves and their closest friends.
"In December, 2013 a group of us were fortunate enough to be involved in a mission to Isabella, Leyte to deliver relief packages and complete a medical mission. This was the culmina tion of much hard work on the part of BWA, Springboard and ALIG, to collect, pack and distribute relief to those affected by Typhoon Yolanda in Leyte. Isabella had been designated an area that had not received any relief prior to this mission.
Fourteen of us, met at the airport early in the morning of December 9th. All of us were excited
and a little nervous. We flew to Cebu and were met by vans to transfer to the fast ferry(3 hours) to Ormoc. There we were met by two vans from PASAR Foundation and transferred to the guest house within the campus where we were to spend our two nights, arriving 12 hours after meeting in Manila. Our sleeping arrangements were interesting. We had two rooms, each with four double mattresses on the floor and quickly decided to split the seven "boys" into one rooms and the "girls" in the other. Our party was made up of: Caroline Cliff (nurse and coordinator extraordinaire), Wendy Reid (nurse), Katie Zhang (nurse), Nicki Jones (relief goods coordinator), Charlotte Jones (medical student), Kitty Martinho (physiotherapist), Maraia Bookless (relief packer/ photographer), Tom Berrimen (MD), Humberto Martinho (MD), Aidan Hilker (packer/ distributor), Paul Retzlaff (packer / distributor), James Gates, Jack Macleod, (AKA Jack and Jill), (Lord) Tim Goldacre (distributor and teller of fascinating stories).
All this evoked memories of my boarding school days (minus the boys, of course) with "lights
out" after the switching off of the generator, particularly with the giggles and torch beams in the dark.
Next morning we headed out at 7 am for the real work. This was our first chance to see the
damage done by the typhoon. There were barely any roofs left on any of the houses. All the trees were stripped of their foliage as though some giant had simply plucked them clean. It was like some bizarre "Three little piggies" tale. If a house was made of straw or wood then it was flattened but only those made of bricks were still standing, minus their roofs, of course. Clear up activities were slowly taking place, with piles of rubble and corrugated sheets appearing by the roadsides.
When we arrived at the community centre in Isabella, the two teams split up. This had all been
organized by PASAR previously. The distributors were set up in a field and, thanks to the organization of the security team at PASAR, were quickly handing out the first of 1200 packages to the large excited crowd in the field. Interestingly,150 of the recipients were from a hill tribe that had walked do wn in the early morning to receive assistance. They handed out wheelbarrows, building supplies and tarps as well as clothing and food packages. At one point in the day, they also had to pack some of the supplies which had arrived too late to be packed in Manila. Nicki, using her experience of packing in Manila, quickly got the team organized and packing efficiently.
Meanwhile, the medical team set up camp in the threadbare medical clinic at a different point in the village. Again, the PASAR security team was invaluable in assisting with crowd control. We were joined by two local doctors, and other employees from PASAR to assist. The four doctors quickly began assessing and treating patients. A total of 350 patients were seen throughout the day, with complaints ranging from acute appendicitis, dental abscess, pneumonia, asthma, skin infections, urinary tract infections as well as a host of minor conditions such as coughs and colds. A team with the assistance of two locals handed out the prescribed medicines. The nurses did some dressings on wounds, tetanus injections, as well as education, and screening/ triage.
After 9 hours of hard work, without a break, we fell exhausted into the vans to return to the
guesthouse. There we found a scrumptious meal, which we devoured, before retiring sleepily to our beds. No giggles or stories on the second night!
The following day, as we traveled to the airport we were pleased to be able to pick out the tarps we had handed out the day before, already up to shelter the various homes from the rain. Our journey back was uneventful, other than a six hour wait between our ferry arrival and flight departure. We spent the time usefully just as all the Filipinos do – in the mall, bowling, shopping, so me going to a movie and of course, the obligatory eating!
We all agreed that our international team from, GB, South Africa, Canada, The Philippines, New Zealanders, and Fiji had the satisfaction of providing a really important mission which none of us wi ll ever forget."
Bless the volunteers who do charity. They don't get paid because they're worthless-it's
because they're priceless!