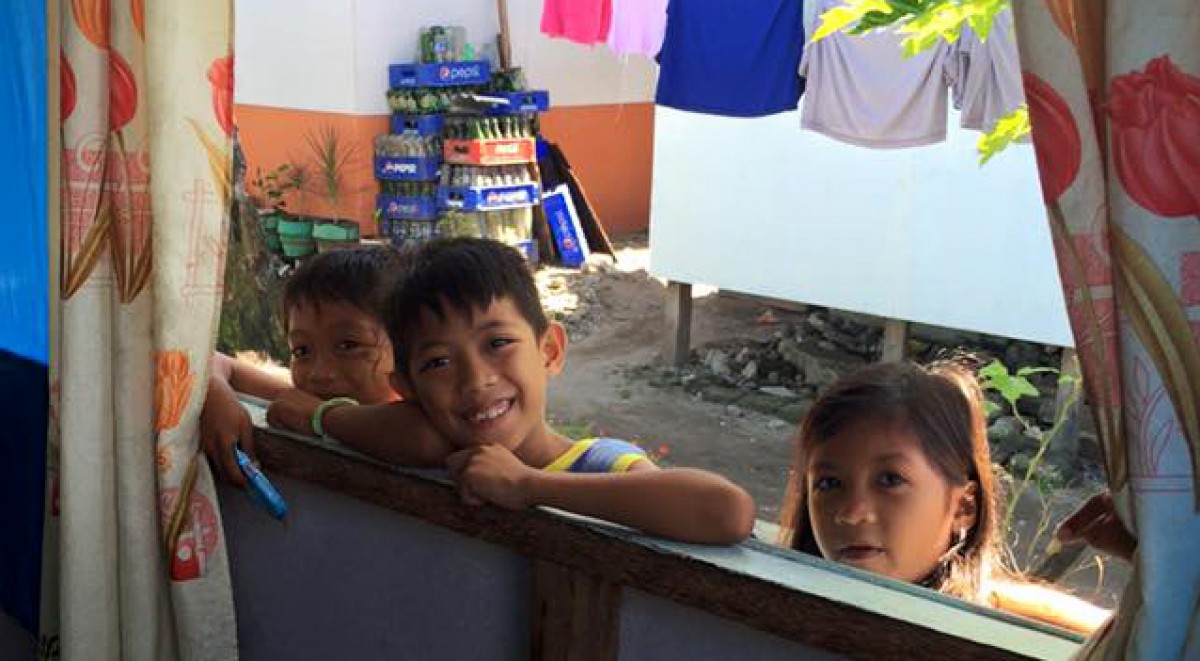 It has been just over 2 years since Typhoon Yolanda made land fall in the Philippines and changed hundreds of thousands of lives forever. Notwithstanding the death toll in many towns, cities and islands, families lost homes, livelihoods and any means of earning a living.  With Tacloban being heavily hit.
We can argue the "where has the money gone?" all day but today is not that day because many organizations, both big and small have done amazing work and families have been able to start again.
The resilience of the people I have had the privilege to meet, through various projects undertaken by Springboard Foundation for our many and varied donors have always been heartwarming. These encounters, reminds me that the human spirit can take so much and still recover with grace and love.
Today I travelled to Tacloban for another visit, to take a peek at our projects and in particular the livelihood "seeds" program started in April. Caroline Cliff came along and also Jeff Jardine and 2 daughters Matika and Ashlea, sadly Leanne Jardine who has done much fund raising, packing and just being amazing was unable to come as she was as sick as!
We returned to some of the housing projects to meet the families and it was great to see thriving sari-sari stores opened, flowers and more home decorations in place. Taking in some of the sights including the McArthur memorial plus the always moving, mass grave site where you really feel the enormity of the tragedy. Sadly the cathedral was closed to visitors today in preparation for their big Christmas concert. You can really begin to feel that life is back. Business is bustling the roads are busy and people have a sense of purpose.
Heading into the country side we made our way to Barangay Camanishay home to approx 800 people who live a simpler life away from the city center they have little electricity and no fresh water well. We were lucky enough to celebrate James 2nd Birthday party and Caroline even sang! One little girl had a cleft pallet and we'd like to see if we can help her but that's another story!
Camanishay had been chosen as the area to start and distribute the seeds donated earlier in April. Impressed with the work done is an understatement. The local farmers association has set up with 87 local farmers a training center that taught them how to build into the mountain a small but effective terracing system to grow vegetables. Before the farmers would just plant, when the rains came the soil eroded and vegetables were lost, whole crops gone.
Using the terracing system that many of you have seen in Banaue, these farmers have been taught how to master the art of seasonal crops and irrigation. Using a plant called kakawati which is vine type plant and is used to shore the steps and is also an efficient insect repellent and nitrogen equalizer. Mother Nature is amazing! Using a simple water facility system where they fill a tank with water from the river by hand they have created a way for the water to trickle down the hillside and ensuring good crops.
Today we were able to pick small, deliciously fresh bell peppers. There was a crop of pumpkin being grown but currently they are tiny.
This members association means everyone has a role and earns a share of the harvest. They must work together to ensure their share. Obviously the growth is slow but it is positive, the only request was for more seeds for vegetables like aubergines (egg plant), water melon is a possibility, onions and others so they can expand. There is also talk to recreate the coconut plantation.
The families we met were hard working, cheerful and so grateful for the chance to do their own thing and earn from it!
A day in Tacloban would be incomplete without a visit to The Lighthouse, a fabulous feeding center and now a small early learning school center for 18 children, newly opened this year. The Kids International organization is a fabulously energetic and organised group and Springboard have worked on many projects with them. Post Yolanda we donated 1 million pesos for the group to expand their building so they can have more classrooms and a birthing center for the hundreds of families behind them who don't have access to a midwife. Today was Christmas Party day. They had arranged a party for 600 children, complete with games, good presents and music! Beautiful.
In February next year the team from the UK will come to build the fabulous massive play park for the children and we look forward to coming back for that! The success of the park in Daanbantayan in northern Cebu has means we now have two playgrounds for Tacloban, kindly donated and shipped over.
Overall Tacloban is coming back, there are still many problems there, it's true that perhaps not all the money pledged has made it yet, buildings are incomplete, but there is much to say about those families back at work, school or college despite losing husbands, wife's, cousins, mothers, fathers or siblings who are living life to the full now, whatever that now is for them they intend to be grateful and happy.
One of the recipients of a house is now a fishing boat craftsman!
Many thanks to the organisations and individuals who continue to support Springboard and if you wish to know more about the work being done and want to help us let us know!
Sarah McLeod