A True Fighter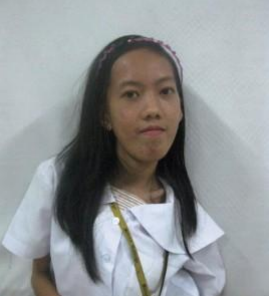 Sarah Mae Igne during her 5th year as a Night
High scholar at Siena College, Taytay, Rizal
It was a sad and tragic day, when one of our scholars, Sarah Mae Igne, from Siena College, Taytay, Rizal, passed away at the age of 21 from kidney and lung complications.
Sarah Mae Igne, born on May 21, 1991, graduated at Siena College, Taytay, Rizal as a Night High Scholar. She was part of the Bosch Night High Scholars sponsored by Robert Bosch, which graduated at the end of School Year 2010-2011.
After Night High School, Robert Bosch and Springboard Foundation continued to sponsor the Bosch Class of 2010-2011 through college, with A Better Chance Foundation. Sarah Mae attended college at the College of Arts and Sciences of Asia and the Pacific, majoring in BS Psychology. She was an incoming 2 nd year college student this S.Y. 2011-2012.
All throughout her life, Sarah Mae struggled to fit in. From a very young age, Sarah Mae suffered from scoliosis. Her condition restricted her movements and affected her health growing up, but Sarah Mae didn't let her condition stop her from living a normal teenage life. Night High scholar, Sarah Mae enthusiastically participated in all school activities, including dancing and other stage performances during special events. She was always very active in school, and did her best in every endeavor.
Here is the testimony of her best friend Larissa Mhiles Esquilon.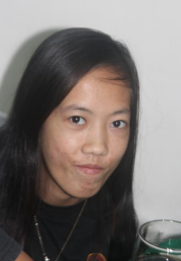 Sarah was one of the best people I have ever known. Why? Simply because she never gave up on the challenges she faced every day. I was one of her believers because I knew that no matter how September 12, 2012 A True Fighter Sarah Mae Igne during her 5th year as a Night High scholar at Siena College, Taytay, Rizalhard life was for her, she could prove to everyone that she could also live like a normal teen, that she could also do whatever she wanted to. We all know that even with her disability, she continued to achieve her goals in life. Experiencing pain and discrimination in life, I think, was one of her reason for being closer to GOD. I would like to share our story. During our childhood, our families were like one big happy family who were always there for us. Her parents stood as our second parents because they took care of us when we were little kids. Sarah was my childhood best friend. Since we were little, we used to play and go to school together. We ate and shared our food, we joined school activities, we did our homework together, and we traveled, and took pictures of every happy moment we shared together. And we continued doing those things up to high school.
While we were on our journey through high school, I knew that Sarah was having a hard time proving to everyone that she could do things normal people could do. With all her painful experiences in life, I knew that it shaped Sarah to become a better person because she never got tired of holding on and still continued to dream. I knew that she's not like other normal teens because she was restricted from physical activities; she couldn't run, she couldn't dance flexibly, but I knew that deep within was a woman with a strong personality who never lost hope despite of all the troubles and discrimination she experienced.
I can say that Sarah was a cheerful person because I was able to witness those times when I saw her laughing. She would always smile politely at me, and that used to absolutely delight me when I was having a bad day. She always used to tell me some funny stories in order to lessen stress from studying. She also used to crack jokes to make people laugh, and that was what really made Sarah an amazing person.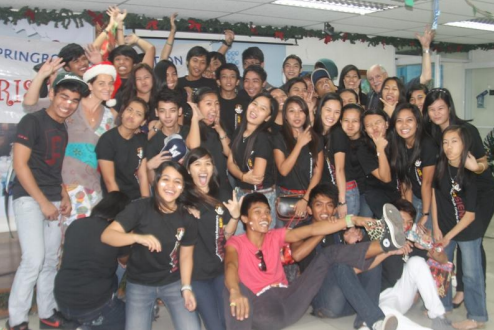 Springboard Christmas Party
with Sarah Mae Igne and
Bosch scholars
Sarah spent most of her time with us – with her friends, family and classmates. Every weekend, Sarah was an active member and a good leader in their church. She was always present during their Sunday service because Sarah was part of the S.W.A.G (Someone Who Admires GOD) team.
Sarah studied her first year of college as a Bosch scholar at the College of Arts and Science in Asia & the Pacific, majoring BS Psychology. Sarah was really a true fighter because we all knew that she suffered from scoliosis. The conditions of people who suffer from skeletal immaturity worsen over time. Because of her condition Sarah used to undergo therapy so she could maintain her ability to participate in activities for people without disabilities. Truly, scoliosis caused Sarah much pain, but it never stopped her from doing what she wanted in life. God created us and gave us the gift of life but He could also get it back so we could live with Him in eternal life. When a close friend of yours dies, it can be really hard to accept. Sadly, God already ended Sarah's life. I will never forget how one ordinary day could suddenly end with shock, hurt, and sadness. It was early morning July 26, 2012 when I received a text message from our Nanay, Sarah's mother. Nanay said, "Tapos na ang paghihirap ng anak ko."(My daughter's hardships are over). I didn't want to believe that it was true. I was so shocked that I couldn't even cry. I was at home preparing for school and I remembered our conversation the night before she died. I was speechless, with my jaw wide open, and just stared at the text message. When reality finally set in, I began to cry. I was crying, telling myself it couldn't be true. After I got the news, I told everyone that Sarah passed away.
Now I can say that disability is not a hindrance to gaining friends, and Sarah proved that because friends, relatives, classmates and sponsors came to her funeral and gave their deepest condolences to her family. The sadness I felt was that Sarah died so young and she was not able to see the love and sacrifice of the people who were always there for her. Sarah made our world light up with her amazing laughter. I will always be a proud best friend and sister to her because I realized that she was really a true fighter and she showed everyone that with God you will be ABLE to do anything. I will never see her again. I love her.
On behalf of Sarah and her family, I want to thank everyone who was there with us during her funeral: First, our beloved sponsors Robert Bosch Inc., Ms. Annette Helbig of Springboard Foundation, and Mr. Lewis Edwards who was with us at Sarah's burial. Sarah would not have been able to finish her studies without Sir Edwards' unwavering support. As his scholars, we're thankful for his continuous support and inspiration. He is a father and a mentor who is willing to help without asking anything in return. Sir Edwards is truly God's instrument. To the teachers, classmates, co-scholars, sponsors, family and friends: I want to thank you for being with Sarah until her last day. Thank you for showing your deep love to my dearest sister and best friend. I know that we will never forget our fond memories of her. Though she passed away, we are very grateful for we all know that Sarah is now enjoying her new life with our Almighty God.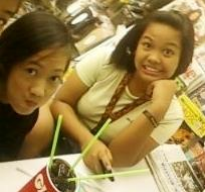 *Larissa Mhiles Esquilon – is a member of
Bosch Class of 2010 from Siena College,
Taytay, Rizal and she is now a 2nd year college
student at PUP, majoring in Office
Management.
Sarah Mae Igne (left) and Larissa Mhiles Esquilon (right).