Blackboard Small Donation Big Impact
Annette visited the Manggahan Nursery, she noticed that teacher Liza only had a very small blackboard to write on. It is very hard for the teacher to work without a big blackboard that all students can see. Springboard Foundation donated a large blackboard so that teacher Liza can show the children what they need to learn. Even small donations such as this blackboard can have a large impact on the daily lives of the children and teachers!
The nursery is very a simple intervention to prepare the children for school. A good start to school life ensures that the children will do well throughout their school years. When we followed the progress of the children who attended the nursery last year, we learned that all of them are in the upper middle achievement class and their grades are very good on average above 85%. Therefore we consider our intervention a success.
Because no room for this is provided by the local government we had to search for a place to conduct the lessons; a local church is kind enough to let us use their premises during the week.
Outside Merville Subidivision, in Sitio Manggahan, 350 families live in poverty. The only sources of income are the occasional jobs as housemaids or drivers and/or construction workers.
The nursery not only helps the children to a better start in school but it also helps mothers and fathers with small children to find jobs to support their families while the children are at the nursery.
Annette Helbig of Springboard Foundation, with daughter Nadia, Gerret, Heidi and Elsa visited the Manggahan Nursery to see how the little students were getting along. During their visit, they brought different kinds of paper, crayons, and chocolate drinks for the students. They enjoyed their time with the children and the children loved the attention and had fun drawing pictures with them.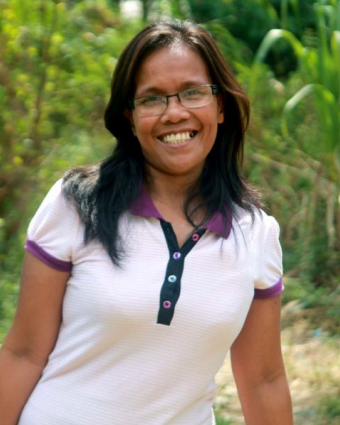 Teacher Liza, the head of the nursery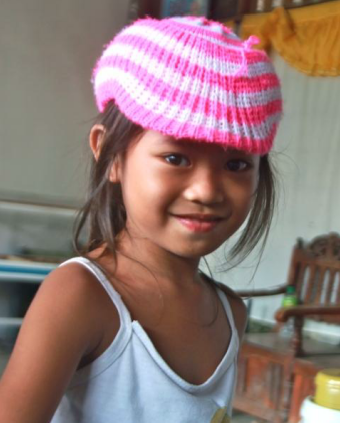 A little girl from the village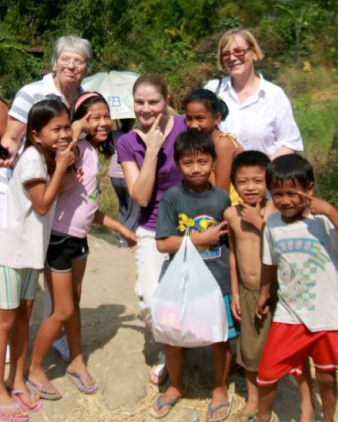 '
Elsa, Nadia and Heidi with children
in the village