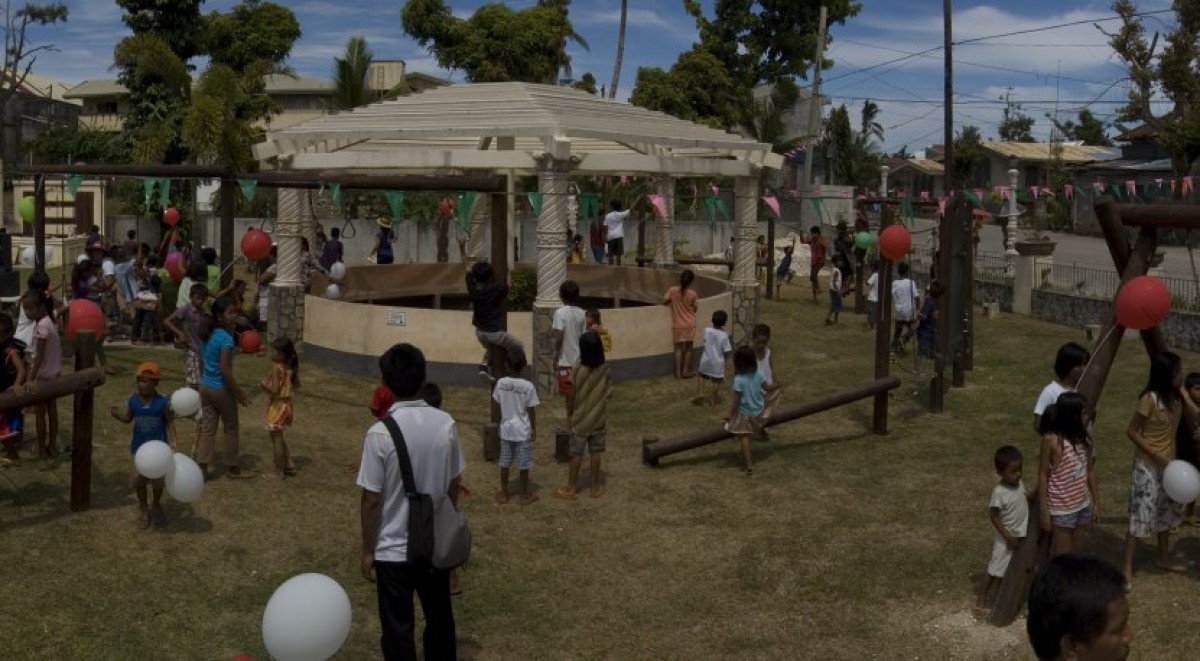 The mission was to build a children's playground in the municipal plaza, in front of the mayor's office in Daanbantayan, in the North of Cebu, in an area hit by Typhoon Yolanda. We had scheduled 7 days to complete the project which seemed a daunting task when arriving on site for the first time and all the materials. 7 days to build a kid's playground for the younger ones and an adventure playground for the older children. The task became even more daunting once we started digging. The ground was unforgiving; we had a couple of cm of soil before hitting a good ½ meter of large loose rocks before returning to soil or 'black gold' as it was soon dubbed.
Some 47 holes later, untold numbers of wheel borrows full of concrete, countless blisters, lifting of heavy lumber, sheer determination and refusal to stop working during the brutal midday sun, the playground was completed. 2 ½ days ahead of schedule! To reward ourselves for all the hard work, we headed down to Lower Bantigue to help with a project rebuilding homes destroyed by Typhoon Yolanda.
When Mayor Augusto D Corro first met us, you got a sense that he was having second thoughts about the project; we were a group of strangers from overseas being let loose in this pristine municipal plaza with digging tools. We were a ragtag team of 8 people, consisting of employees of Playdale, retired teachers and people on their travels. At that point, the first of many holes had been dug. There was no turning back for the mayor. As the project progressed, you could feel the excitement within the Mayor build up. Every day of construction drew more and more spectators to the municipal plaza to see what we were up to.
The adventure playground had balance beams, monkey bars, climbing walls which lead to a spider web climbing frame and swings. Whilst the children's playground had a ball puzzle, spinning chairs, wigwam, springboard and a swinging elephant.
The grand opening of the playground was a roaring success; the excitement surrounding the project had been building up all week within the community. There was music, entertainers, speeches from all were involved in organising this project and more importantly, the municipal plaza was full of families and their children enjoying the playground. It was attended by members of the community from Daanbantayan to Lower Bantigue, with over 50 children just from Lower Bantigue.
Playdale, is a UK company who specialise in building playgrounds who kindly donated the playground and a couple of staff members to aid with the planning and construction of the playground. They have also been involved with playground building projects in Tondo, Manila. With the spare playground materials left over from this project, Playdale hope to be back in 2016 (or sooner) to build more playgrounds for the children of the Philippines with the help of Springboard.
"I wish that I could die today so that I can come back as a child to enjoy this playground"
Mayor Augusto D Corro, May 2014
"On behalf of Playdale and their rag tag group of volunteers, I would like to thank Springboard for all their support with this project."
Gavin McIsaac