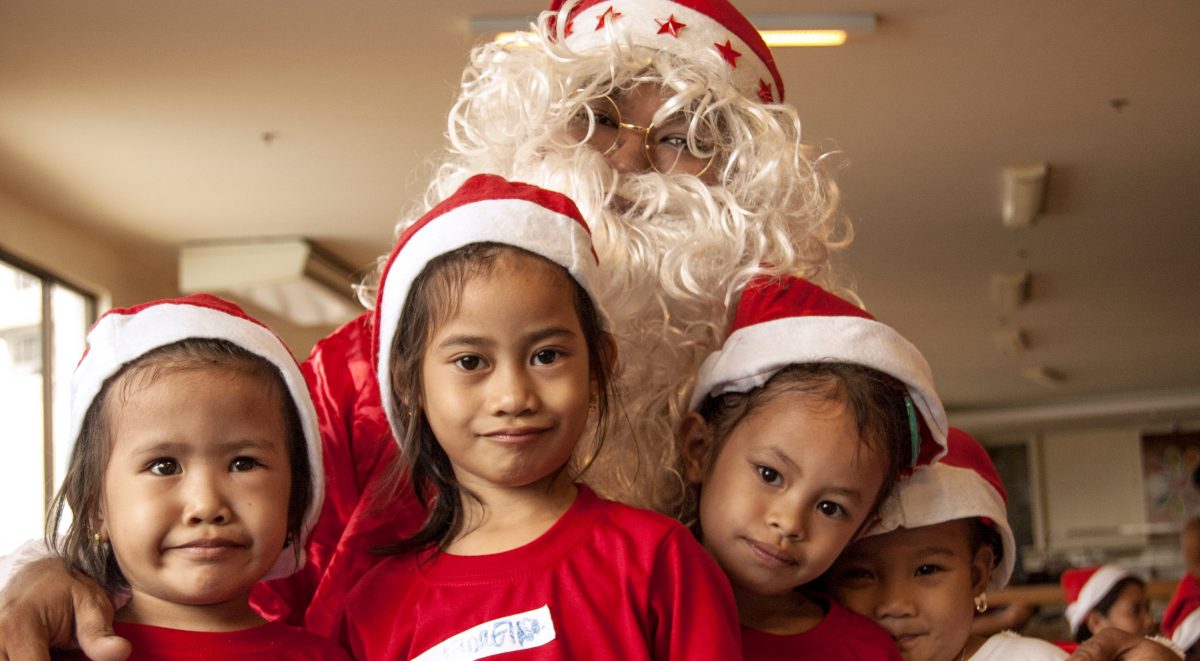 Give A Life Foundation
Springboard Foundation had the pleasure of working with Give A Life Foundation to put on a Christmas Party to children with cancer and children who are cancer survivors. It was the first of the Christmas parties of the season.
The atmosphere during the party eroded any thoughts of the never ending rain outside. The kids inside enjoying various games and magic show. Santa Claus even dropped by to hand out presents to the kids. There was also vendors dishing out ice cream, cotton candy and pop corn to kids and grown ups alike. A photo booth was also present where kids could rummage through a box of props to make their photos even more unique, face painting was even squeezed into the mix.
Give A Life Foundation focuses on helping children with various illnesses and to provide much needed hospital equipment to Neonatal Intensive Care Units and Pediatric Wards.
---
---
Kings School Manila
Children from Wella Day Care and Manggahan Day Care, both based in squatters settlements, were treated to attend the second of Christmas parties that Springboard Foundation helped organise at the Kings School Manila.
The Kings School allowed us to use their facilities to host the Christmas party for the two day cares. Santa popped along (where does he get the energy?) to perform to enthrall the kids with magic tricks and to hand out various gifts to the children. The 'White Rabbit' trick shocked and entertained the crowd in equal measures. The trick centers around the idea that a rabbit is going to be pulled from the hat but instead a rubber snake emerges and flies into the crowd. The front row scatters whilst everyone else enjoys the spectacle.
The Barkada Group (made up of parents) ran a 'Shoebox Appeal' that contained supplies for the home (alcohol gel, cotton buds, etc.) for each of the students. Students from the Kings School also purchased presents for each of the kids from the day cares. On top of all this, a Christmas Hamper with spaghetti, tomato sauce (this is very popular to have at Christmas in the Philippines), cheese, pancake mix and oil was given to each of the kids and the helpers on the day. Barkada also provided lunch for everyone who attended and covered the costs of transporting the kids to the school. I am very grateful for their suggestion of hiring an extra 2 Jeepneys as the generosity of everyone at the Kings School was overwhelming…the original plan of 4 Jeepneys would have been over flowing with presents to the kids of Wella and Manggahan.
We would like to thank everyone who was involved in making the day so special for the kids.
---
---