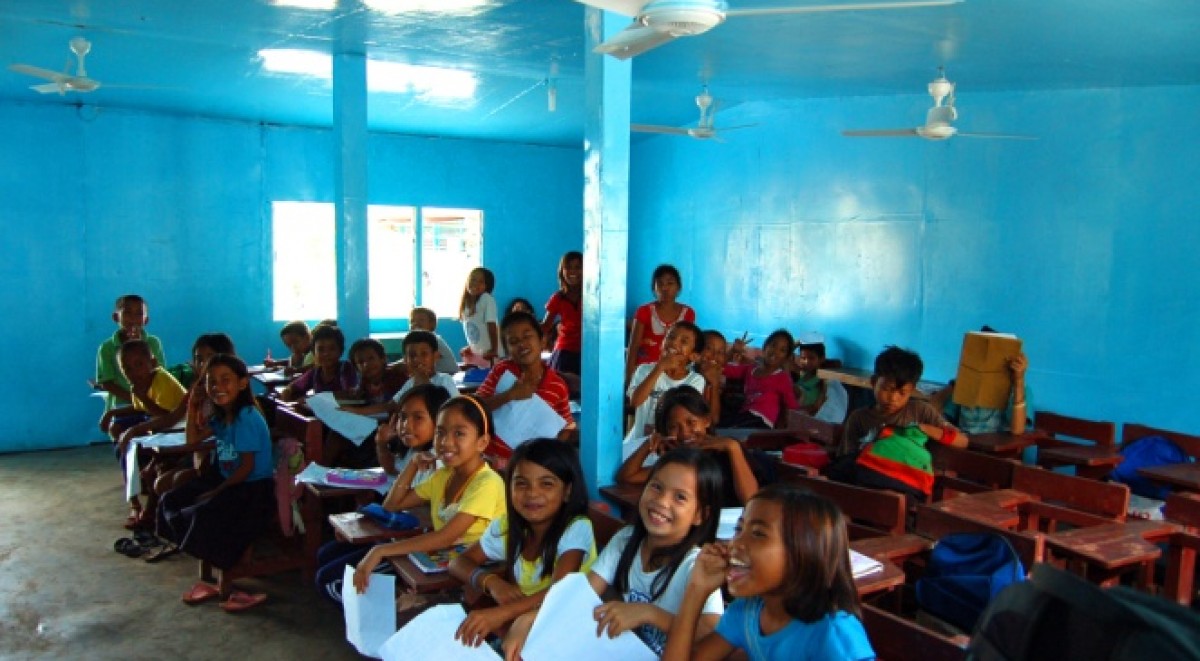 You may have previously read about The Central School in Poblacion, Daanbantayan in a previous newsletter about a group of volunteers from the Garden International School, who helped with the renovations by providing materials and volunteers to add the final touches to two of the classrooms. The school was damaged during typhoon Yolanda last year and work is continuing on repairs and renovations. Here are the latest developments from the school.
The official handing over of fans to Mrs. Alburo and Mrs. Godin which complete the renovation of their classrooms. Pictures taken by the students.
Springboard donated 8 electric fans to be split between the classrooms of teacher's Mrs. Alburo and Mrs. Godin. The two classrooms the Garden International School helped renovate. The students have been without electric fans for months now. The heat is more noticeable in these two classrooms compared to the other classrooms at the school due to the low ceilings.
To say that the students of Mrs. Alburo's class were 'happy' at the arrival of the electric fans would be bit of an understatement. If I was to go with one adjective to describe the student's reaction, I would go with 'deafening'. Maybe the close confines of the classroom amplified their enthusiasm but there is no doubt that their enthusiasm was heartfelt. Mrs. Godin's students were also happy at the sight of donated fans showed their gratitude through a collective 'thank you', not as rough on the ears.
The difference the renovations made to Mrs. Solon's classroom was dramatic. At first I did not recognize her room, walked past it, looked confused and lost until a helpful student ushered me in the right direction of Mrs. Solon's classroom. In a space of a few days, the room transformed from a dingy, dank, depressing shell of a room, to a classroom to be proud of, bright, colourful, welcoming. The big hole in the ceiling had gone and for some reason, this made the room feel bigger, the walls now a uniform colour instead of the previous mish-mash of exposed boards and flaking paint. As an added bonus, the renovations came in under budget! Four electric fans were also donated by Springboard as these students have been without any type of fans now for months.
Installed fans in both Mrs. Alburo's and Mrs. Godin's classrooms during the lunch break. Before and after shots of Mrs. Solon's classroom. The renovations and the electric fans have made a big difference to the learning environment.
Talking to teacher Solon, she had this to say about the support from Springboard;
"I am very happy and thankful to God, as I am the last one to have repairs on my classroom. Thank you for all the support for renovating my classroom".
Teacher Solon