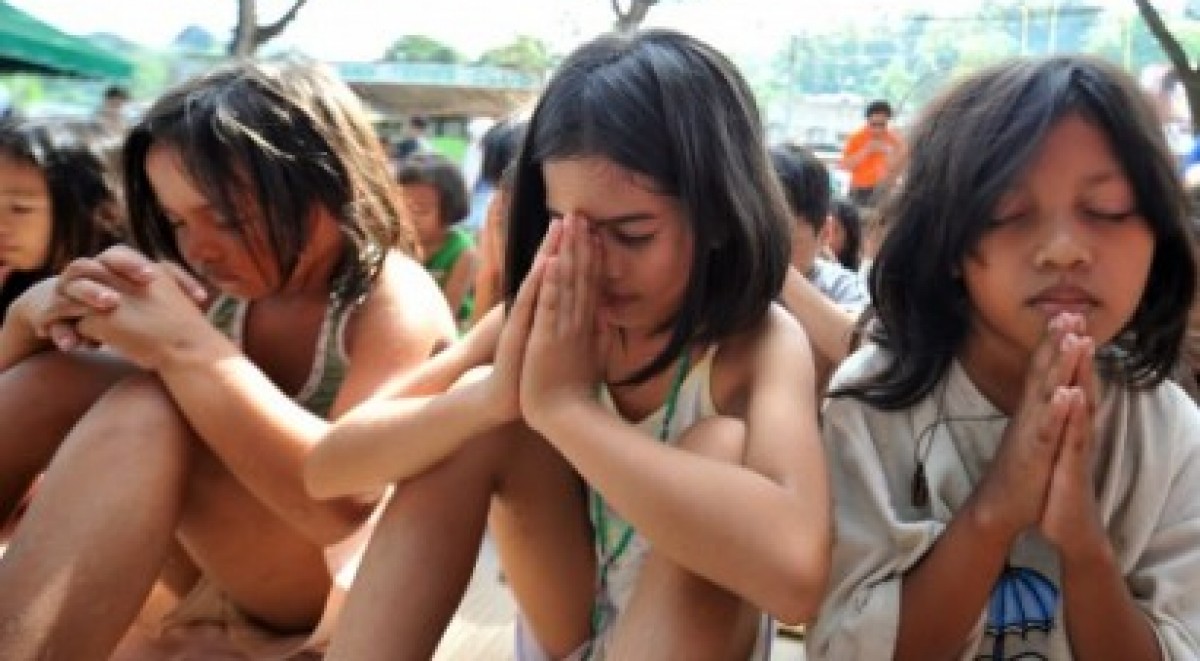 Days after the terrible floods caused by Typhoon Sendong, the people are trying to rebuild their lives again.
Children are especially traumatized by the loss of their homes, loved ones and friends. The life they have known has ceased to exist. Our partner organization in the affected areas is Hope Worldwide. They are specialists in disaster relief and psychosocial intervention for children.
Springboard is very grateful for all the support we've received. Knowing the dire needs of the people, Gina Tuazon(Vice President of Springboard), and her husband, David, didn't hesitate to brave the Christmas crowds on Christmas eve to purchase relief goods in Chinatown, so that more items could be bought with our available budget. The same night they brought all the goods to Hope Worldwide, so that it would be shipped to Cagayan de Oro as soon as possible. The shipment left Manila on December 26th and was due to arrive in Cagayan de Oro on Dec. 29th. Unfortunately, we learned that it only arrived on Jan. 2, 2012.
Hope Worldwide have been busy, in the meantime, working with the children and their families, helping them work through the severe trauma they have experienced, and with the assessment and identification of the neediest families. The distribution of all relief goods will be done on Thursday, January 5.
As of January 4, 2011 – Northern Mindanao Disaster due to Flash Floods
HIGHLIGHTS AND OPPORTUNITIES:
Send two teams from Manila (MPT1 – December 21) and Cebu (MPT2 – December 27)
 Conducted psychosocial activities with children.

 A total of 1,055 children served.

Conducted activities in four evacuation centers (three in Cagayan De Oro (CDO); one in Iligan City).

Conducted Disaster Risk Reduction activities with children through puppet interaction with closely 200 children, in partnership with News 5 Public Service.
 Able to attend the Child Protection Working Group (CPWG) meeting and meet NGO's for coordination and partnership.
Discussed Term of Reference for CPWG of Northern Mindanao.

Reserved 2 sets Unicef Psychosocial Kits.
Established contact with John Salva of World Vision.

They are mapping NGO's providing Psychosocial Activities to children in Evacuation Centers (EC's).

Met active Networks from all over Mindanao.
Kid's for Peace (Child Participation).
Fruitful visit to Iligan City last December 24 and January 2.

Visit and build rapport with 2 evacuation centers (Iligan City Central, MSU-IIT)

There were zero casualties in one barangay because the residents are familiar with flash flooding.
The city LGU was very responsive and organized, compared to the city LGUs in CDO.
Meeting with CSWD and City Information Administration.
Conducted psychosocial activities in Muslim evacuation centers.

Visit 1 community (Sta.Filomena) and get some stories/pictures with strong impact.

Raging water flowed from two directions (with massive logs) which caught the evacuating citizens by surprise, causing massive deaths.

Network with Philippine National Red Cross Iligan Chapter.
   The DSWD started distributing Family Cards to affected families last December 23, 2011.
   Acquired firsthand information from affected population in Cagayan De Oro:

Water rose to 20 meters in 30 minutes in the surrounding communities near the riverbanks of Barangay Carmen.
Water rose to 20 feet in 30 seconds in barangay Tibasak and Macasandig
   Procured a free warehouse (courtesy of a local church contact in Cagayan De Oro).
   Able to build rapport with CSWCD in-charge of the Central City School EC and some members of the Faculty (SPED Teachers)

There is available space for children's activities.
Possible access to Children with Disabilities.
   Able to get Matrix of Psychosocial Services by some NGO's thru Citizens Network Psychosocial Response (CNet PSR) last December 22, 2011.

Acquired data on local contact persons and partners.
Gave contact information about focal persons of service providers.
 Donations from Manila arrived on January 2 and were transferred to the warehouse on January 3.
UPDATE ON CASUALTIES, AFFECTED POPULATIONS, AND DAMAGES: 
Casualties 
Dead –1,257
Missing – 98
Injured – 4,658
Rescued – 441
Number of Evacuation Centers 
Cagayan De Oro – 21
Iligan City – 16
Number of Affected Population 
80,647 families
429,045 persons
Damages 
Infrastructure – Php1,097,441,000.00
Agriculture – Php287,151,708.00
ISSUES AND CONCERNS:
Identified 5 children with high possibility of trauma, with very limited interaction:

children of Kuya Nonie (local volunteer) aged 6 and 12 y/o;
Precious, 3-year old, in City Central;
niece/nephew of City Administrator;
a relative of a teacher in City Central

   Identified orphans with only limited interaction:

3 children in Macasandig;
1 in Consolacion

   Demographics may be available by next week, at the earliest:

No data on orphans, unidentified and unaccompanied children.
Maybe no plans to identify traumatized children.

   Lack of information about plans for temporary relocation for totally washed-out evacuees:

DepEd directive to extend vacation by one month to accommodate evacuees
MSU-IIT in Iligan city plans to have the 14,000 evacuees to return to their respective

barangays.

Evacuees of two EC's in CDO will be relocated.
Some evacuation centers are more like relief distribution centers:
Some affected families show-up only during relief distribution
Unrealistic number of families supposedly living in evacuation centers
Very chaotic relief distribution; some families may be marginalized (single mothers, families with small children, people with disabilities, unaccompanied senior citizens)

   It may take one month for the water supply to normalize in some parts of CDO.
   Political conflict within CDO

Some evacuees of Barangay Carmen were excluded from receiving relief from the city government due to political rivalries.
Needs of the Community 
Safe drinking water
Medicines for common illnesses and for leptospirosis
Vitamins for children
Under garments especially for women
Cooking wares
Pails
Mats
Dipper
Laundry soap
Blankets
Sack bag (for storing the clothes)
Hygiene kit
Additional psychosocial materials for children's activities
Educational supplies, and uniform of children (since most of the their belongings were flooded)
Play/sports materials for recreational activities
Plan of Action (January-March) 
Facilitate relief operations for 1,000 affected families (5,000 persons)

First batch of donations arrived last January 2, 2012.
Start of distribution will be on January 5, 2012.

Conduct Psychosocial activities for 3,000 displaced children.

Already conducted activities with 655 children.

 Conduct advocacy on child abuse prevention and disaster risk reduction for 5,000 children.

MPT1 and MPT2 staff members will reinforce the response team by next week.

 Establish four (4) Child Protection System in Evacuation Centers.