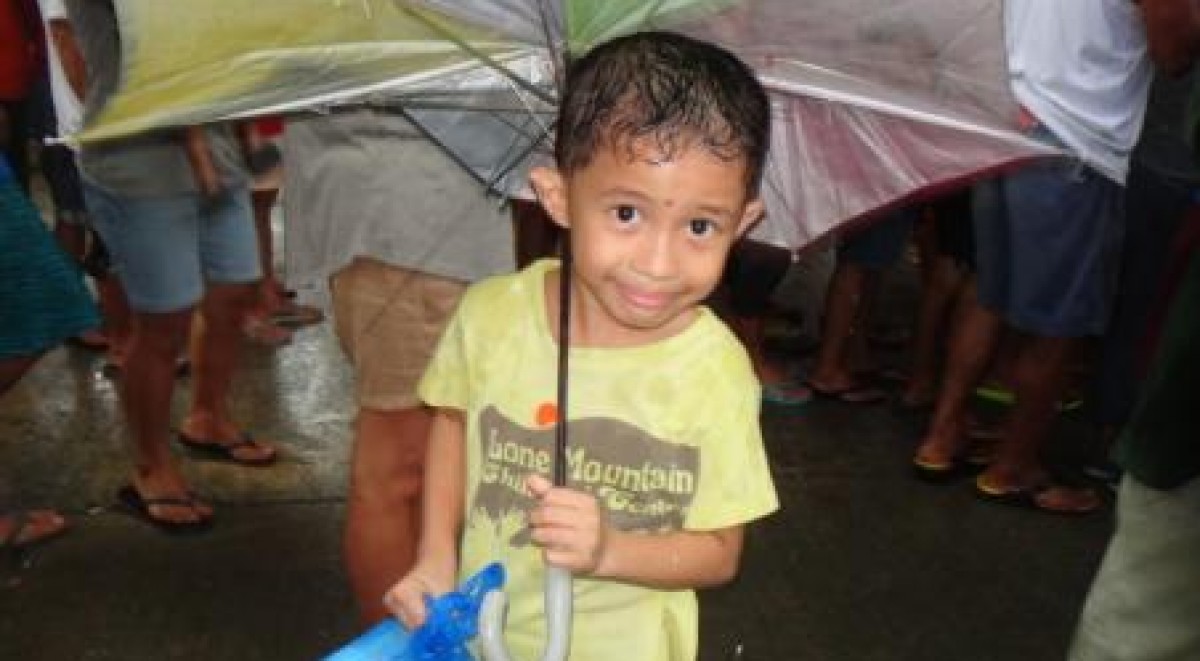 September 4, 2013
May we appeal to you for help in bringing relief to the many people who have lost so much but are still
living in flooded and muddy areas?
46,276 families suffered severe losses caused by the floods during typhoon Maring. Sarah Mc Leod of
Springboard Foundation visited Montalban, Rizal, north of Metro Manila and saw that many families were
living in homes flooded, and surrounded by muddy streets.
Tropical storm "Maring" and the southwest monsoon resulted in heavy rainfall and widespread flooding for many days in 663 areas under 92 municipalities and cities in the Philippines. Springboard Foundation donated 1,500 bags of relief goods to the Asian Student Christian Foundation for the families affected in Monatlaban, Rizal and Payatas.
Distribution of relief goods in Montalban
Distribution of relief goods in Payatas
Springboard joined private NGO's who conducted a medical mission in Monatalban, Rizal, where 500 patients were served. Our longtime volunteer Caroline Cliff organized this wonderful mission and we are thankful for her hard work and for the help of the many doctors, nurses and volunteers who came and lent a helping hand.
Many expat volunteers also helped us pack and distribute relief goods. We are always grateful to have so many people ready to volunteer their time and efforts. We wouldn't have been able to do so much without their support.
We still need to help the people in Laguna. This area has been declared a "calamity area" and remains flooded to this day.
Please join us in bringing relief by donating in cash or in kind.
In kind and cash donations can be dropped off at 15 Melbourne St. Merville, Paranaque or c all
us to arrange for pick-ups. Call 8215440/ 343 3309/ 09228396412 look for Annette or Gina
Transfers can be made to: Springboard Foundation, Inc.
Hongkong Shanghai Banking Corporation Limited, Makati Main Branch
Swift Code: HSBC-PHMM
Peso Account # 000-179-069-040
US Dollar Account # 001-060-458-130
Canadian Dollar # 001-060-458-131
GBP Account # 001-060-458-195
EURO Account # 001-060-458-133
Bank of the Philippine Islands, Magallanes South, Pasay City
Peso Account # 0081-0592-09
Please scan and e mail the deposit or transfer slips to info@springboard-foundation.org so that
we can send you an official receipt.
REPORT UPDATE: As of August 24, 2013
National Disaster Risk Reduction and Management Council (NDRRMC)
Number of areas affected
663 Areas under 92 municipalities and cities are affected
UPDATE ON CASUALTIES, AFFECTED POPULATIONS AND DAMAGES:
Casualties
Dead –21
Missing – 4
Injured – 41
Evacuees – 206,232
Number of Evacuation Centers
Evacuation centers -675
Seeking shelter with friends & relatives -400,762
Number of Affected Population
46,276 families
206,232 individuals
Damages
Infrastructure  and agriculture PHP 97,300,000.00
Issues & Concern
Some evacuation centers are more like a relief distribution centers
Some affected families show-up only during relief distribution
Unrealistic number of families supposedly inside evacuation centers
Very chaotic relief distribution, some families may be marginalized (single
mothers, families with small children, people with disabilities, unaccompanied
senior citizens)
Needs of Community
Food
Educational supplies and uniform of children (since most of the their belongings were
flooded)
Safe drinking water
Medicines for common illnesses and for leptospirosis, colds, coughs, fever & allergies
Vitamins for children
Under garments especially for women
Cooking wares
Pails
Mats
Dipper
Laundry soap
Blankets
Sack bag (for storing the clothes)
Hygiene kit
Plan of Action with other NGO organization and volunteers(August – September)
1. Facilitate relief operations to 1,500 affected families (7,500 persons)
First batch of donations arrived last August 24
Start of distribution was August 24 ,2013
Medical mission served 500 patients