Dear Friends,
First, let me say thank you to all who have donated so generously and especially to all our volunteers who have worked so hard to pack, deliver and distribute relief goods and also to all those who have passed on our plea for help to their friends and colleagues. We could not do any of the work we do without you.
Disaster Response Program Update
September – October 2011
A total number of 1,300 relief packs (each pack consists of food, water, soap, clothing and blanket) were distributed to affected families in the Center of Hope – Baseco, Hagonoy, Bulacan, Philippine Christian Foundation at Tondo and Asian Students Christian Foundation at Montalban.
Tapped more than 24 volunteers to assist in disaster-response operation.
Baseco and Vitas at Tondo
Three fierce storms hit the islands of The Philippines starting September 27, 2011 that left countless of homes devastated and a toll of casualties and billions of pesos worth of damaged agricultural farms and infrastructures.
The first major turbulence that shocked the entire country is "Pedring" (international name: Nesat) which hit the metropolis unguarded. Strong winds shattered the Manila bay structures and ruined business establishments and hospitals. Patients from Manila Medical Center had to be transferred to neighboring hospitals for the areas occupied by the elderly and children patients were already flooded.
Adjacent provinces in the north were not spared, for they were flooded to the roof that required rubber boats and helicopters to rescue them. About to be harvested rice and corn farms were washed away and overlaid with ferocious mud.
Just as when they thought it was over, another storm "Quiel"(international name:Nalgae) entered the Philippine area of responsibility September 29, 2011 when "Pedring" exited, giving more fear and destruction to the entire country.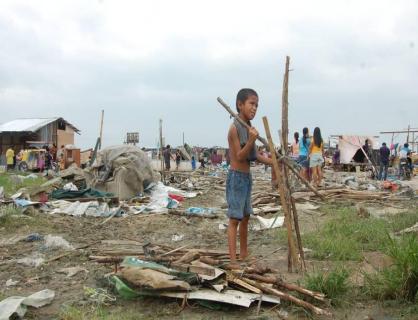 A slum area near the pier called Baseco where Hope worldwide Philippines focused on education and child abuse prevention was severely affected, leaving hundreds of shanties blown away.
Hundreds of children were left with no house to protect and keep them warm and dry. Small boys had no choice but to help their parents repair and rebuild their houses.
After the assessment and coordination of our satellite program manager, the Disaster Risk Reduction arm of the Hope Mobile Puppet Theater responded to 1,120 families affected.
Springboard Foundation provided 650 packages containing rice, canned goods, noodles, clothes and a blanket. Goods need to be transported from Pasay City to Baseco and Vitas in Tondo amidst continuing heavy rain.
The distribution was challenging because heavy downpour threatened to hinder the beneficiaries from going to the center, but the survivors that they are and the opportunity that must be grabbed…they braved through the rain heading towards the Center of Hope.
It was October 8, 2011 when we saw 350 satisfied and relived families in Baseco who once again felt cared for, cherishing every bit of concern they receive from us.
Another 300 families in Vitas, Tondo received the relief goods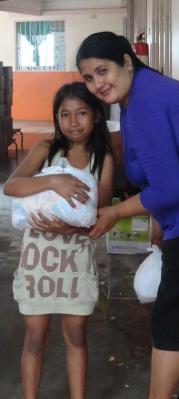 While this distribution is occurring, a third storm "Ramon" is raging havoc in the southern part of the country, feasting on the helpless people where numbers of casualties are being reported daily due to flashfloods.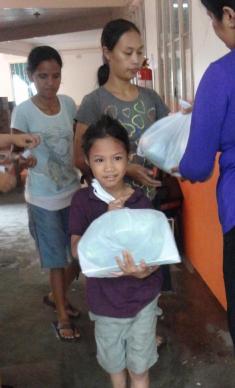 Hagonoy, Bulacan
As early as 4:00AM on October 15, 2011 Springboard volunteers together with Migs of Hope Worldwide and their volunteers travelled to Bulacan to attend to 600 families. Randy Bradbury of Loving Kindness Ministries brought hundreds of bottles of mineral water.
It was more emotional than the previous trips because these families were forced to live on their roofs for days leaving only rubber boats and helicopters to reach them. We were able to interview some survivors who described the lurid experience. Hearing about the dreadful experience they went through left us grateful that we were still talking to these people alive.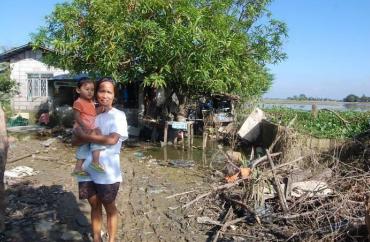 Susan Perola of Sandoval, Iba, Hagonoy, Bulacan had to leave their house during "Pedring's" vindictiveness through dirty water for a higher place they call the "memorial" so that they wouldn't be trapped by the rampaging water current that reached as high as her head.
Pictures during distribution