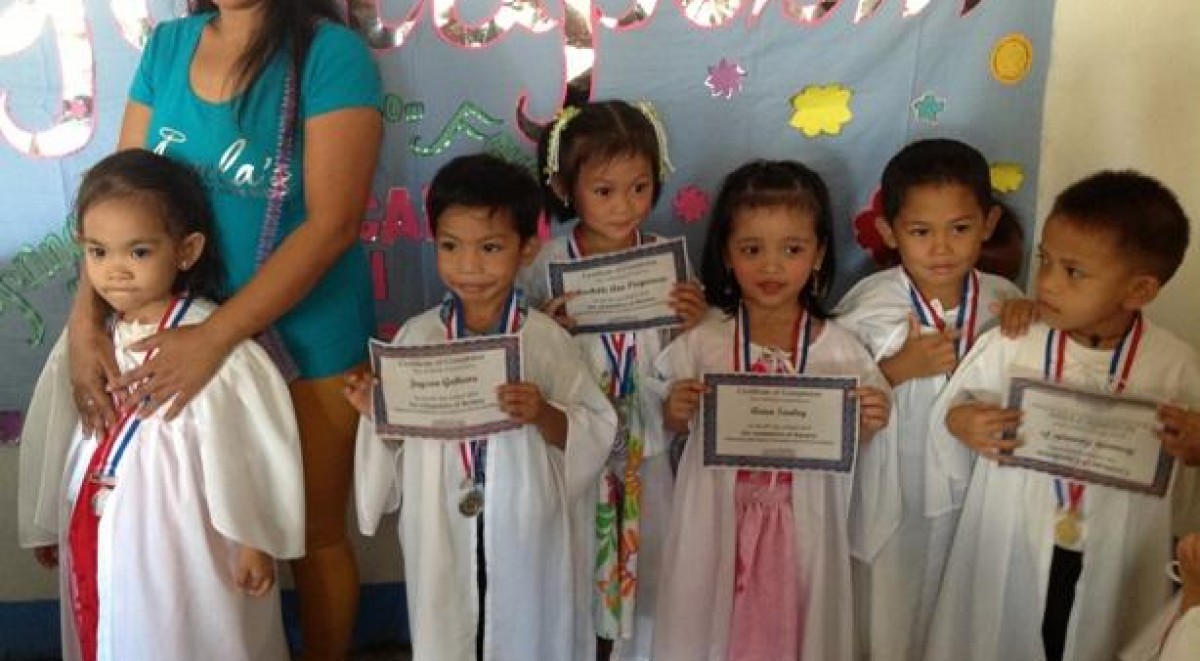 April 2014
Manggahan School Graduation, Philippines.
Hooray! It's preschool graduation! And whether your little one attended preschool for
one, two, or three years, the journey is over and time to get ready for kindergarten!
Springboard Foundation is very proud of this intervention as the children are getting a
good opportunity to build a better academic foundation that will allow them to excel in the
upper school years. From the previous years, the children that have graduated from the day
care center, not only have they managed to finish school but also performed well with good
grades. Whether they call it moving up or graduating, the completion of preschool is certainly
something to celebrate.
Pagtatapos is a tagalong name that means Graduation. The annual graduation
ceremony for Manggahan Day Care School took place this month. In attendance were
Mrs.Gina Tuazon and Miss Rebecca Okari from Springboard Foundation, Mrs Arlene Tinkler
from Cararoo Foundation , Day Care teacher Mrs.Lisa Cinco and the parents were in
attendance to celebrate the success of the pupils.The event was marked by speeches from
Gina Tuazon of Springboard Foundation who gave a special message to all of the parents,
students and teachers. She acknowledged the teachers' hard work in foreseeing growth,
development and skill acquisition in all of the boys and girls.
Arlene Tinkler congratulated the students and staff present on their achievements before
presenting each graduating student with a certificate to mark the occasion. A medal was also
awarded to the little ones by Rebecca Okari to mark their success. The parents were very
pleased as their little ones received the special awards. Assembled guests and parents were
entertained with excellent singing from the children.
Springboard is very delighted to support this project. Our feel is absolutely imperative for any
child to grow in an environment of respect, love, peace, and harmony. When all else falls
aside, nothing else matters than the children and their social emotional well being. As for the
parents, they generally have hopes of a future as bright as the leaves will soon be turning for
their child. As a new grade begins; it reminds parents another school year is unfolding.
If anyone would like to support the children for school supplies and materials, the whole
package per year is 30,000 pesos.