Help Victims of Typhoon Sendong/Washi
You might have seen it on CNN:
http://www.youtube.com/watch?v=q0iwkHuh5dI&feature=related
Another tragedy has hit our country. Typhoon Sendong (int. name: Washi) hit the South of the Philippines and left a path of destruction.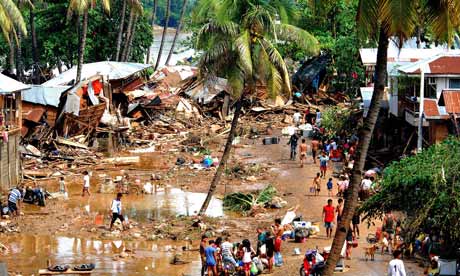 One of our fellow members of the Association of Foundations Philippines. the Xavier Science Foundation, based in Cagayan de Oro City, is mobilizing emergency relief operations to help victims of Typhoon Sendong. Please find below a brief update on the situation from Dean Roel Ravanera, executive director of the Foundation. It will be easier to procure relief goods locally, in which case, immediate cash donations are preferred.
Springboard is confident that the Xavier Science Foundation knows the local environment and is a good conduct of relief to the people there. Please help us bring relief in times of such great need.
HELP Cagayan de Oro
As you have all heard from the news, the City of Golden Friendship, Cagayan de Oro has been terribly hit by typhoon SENDONG last December 17 where thousands of families have been affected, houses fully devastated and family members died. To date, there are now around 500 dead recovered and hundreds are still missing. This is one of the worst disasters to hit CDO in its recent history.
Xavier Science Foundation with Xavier University-Ateneo de Cagayan is accepting relief assistance for the victims. The university serves as one of the relief centers in CDO in coordination with the National Disaster Coordinating Council in providing food, clothing, water (scarce in CDO as of the moment because pipe lines were also destroyed by the typhoon) and medical assistance.
You may send your donations to the following bank accounts:
Hongkong Shanghai Banking Corporation Limited, Makati Main Branch
Swift Code: HSBC-PHMM
Peso Account #
000-179-069-040
US Dollar Account #
001-060-458-130
Canadian Dollar #
001-060-458-131
GBP Account #
001-060-458-195
EURO Account #
001-060-458-133
Or alternatively to our account at the Bank of the Philippine Islands,
Magallanes South, Pasay City
Peso Account #
0081-0592-09
For online donation please copy the link
https://secure.springboard-foundation.org/donation.php
For those who wish to seek an official receipt for their contribution, you may email a copy of the deposit slip at info@springboard-foundation.org or fax to 02 821 5440and specify the details of your remittance (name of donor, date of transaction, contact information). You may also call 02 821 5440/ 343 3309.
Thank you for your generosity in this difficult moment.
The Springboard Foundation