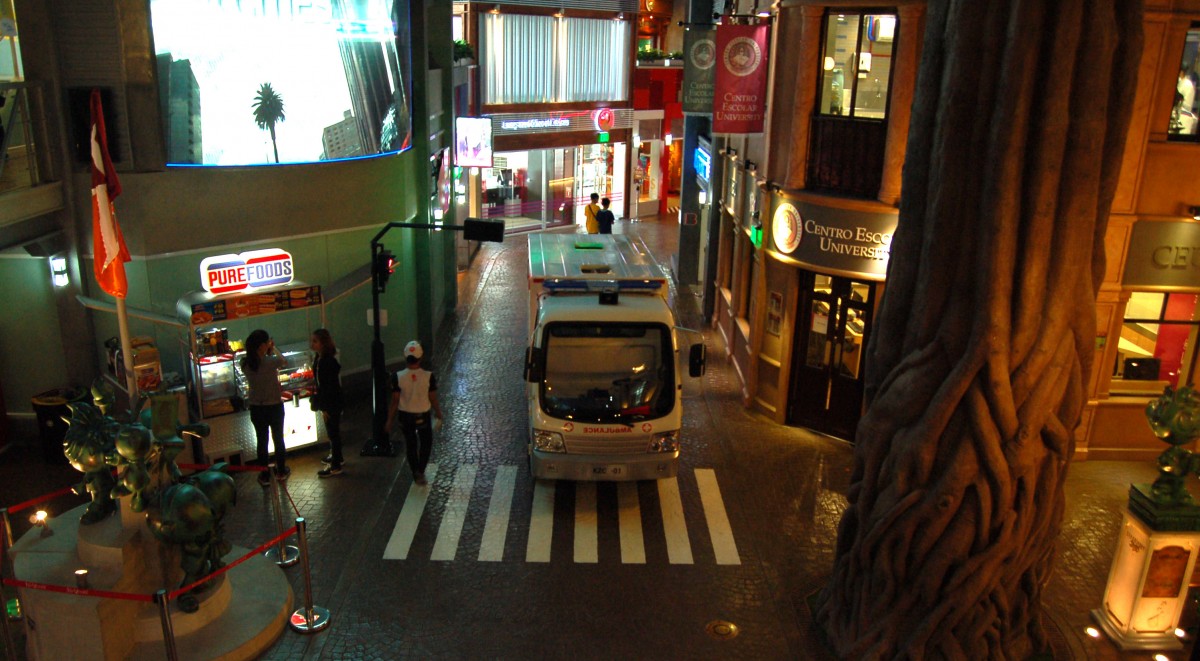 Organize 100 children to go on a fun trip to Kidzania, inclusive of food and transportation for the following day? Of course we can. Late afternoon, we receive a last minute call from The Masters Lighthouse Foundation (which we are very grateful for the call) to find out if we knew 100 students who would be interested in go to Kidzania for free, along with a free lunch and free transport there and back! Of course we did! The catch? The quota had to be filled by the close of business…with a blazing flurry of phone calls Gina managed to round up 100 students from ASCF Cashew in Payatus and from Merville, All Top Day Care Centre, Manggahan Day Care Centre and Wella Day Care Centre in a matter of an afternoon.
Less than 36 hours later, sipping my 11 Peso convenience store coffee I wait at the meeting point, watching as it slowly fills with students from the different Day Care Centres in Merville.  The Jeepneys arrive to a cheer (they were late) and off we went in to the Manila traffic. We will be meeting the ASCF Cashew students when we arrive there.
One of the students from Wella breaks open a packet of marshmallows on the Jeepney to Kidzania. He pops a couple of the sugary treats into his mouth and then shares the remainder with his fellow classmates. A scene I see repeated with Packets of crisps (US: Chips) and unidentified food stuffs in packets on the journey to Kidzania. Later on in the day another student from the Merville contingent, seeing I was without a lunch in hand offered half his burger to me. For students who do not have much, their generosity is immense.
Kidzania is an educational establishment that aims to teach children, the concept of money and work through role play. Their website offers a way better explanation than I do. Visit them at http://manila.kidzania.com/en-ph. Children are given 50 Kidzos (Kidzania currency) from the bank were they then pay for different activities and goods. They can even earn extra Kidzos by completing certain jobs.
---
---
We arrive at a nondescript building (although the view from a Jeepney renders everything nondescript) that gives little away to what is inside. The entrance is kitted out like a departure hall at an airport, complete with check in counters, after an introduction talk about how Kidzania works; we were off to the next stage…the bank. The first hurdle for some of the students was the escalators, something that is second nature to us but something quite alien to many of the younger students. Entering the main area for the first time is a surreal experience…it is a miniature CBD, complete with TV studios, shops, fast food, delivery services to a motorised tour bus, fire engine and ambulance. There are between 60-70 different jobs the students can try. Not as in, 'This what a fireman does, now move along', but 'This is what a fireman does…now it is your go!' Dressed as firemen, the kids pile into the fire engine, drive across the town and put out a fire at the old hotel before return back to the fire station. It is miniature self-contained world where kids can learn about the grown up world.
The students got to try their hand at a variety of jobs; paramedics, pilots, midwives, doctors to working in bottling plants, petrol stations, grocery stores. They also worked in the chains Goldielocks (baked goods), McDonalds, Purefoods (hot dogs), and Magnolia (ice cream) where they got shown how to make their products and then being allowed to eat what they created. The younger students looked as happy as Larry, walking out of McDonalds with the burgers they created. It struck me was how patient each student was while they waited for their turn.
The free lunch arrives; I grab the chance to chill out with the students instead of being the random foreigner chasing them around with a camera. I quickly find out how much they enjoyed themselves; the wide grins on each of their faces said it all. We all pile into the Jeepneys, the journey  back was loud and boisterous, the students singing away to different songs, including 'Zombie' by the Cranberries.
I find out some students want to become pilots, firemen, chefs, careers and dreams many of us had dreamed about when growing up. Who knows, this trip may be the spark that creates future doctors or pilots.  One thing is for certain, without your continued support, a lot of the students will never have the chance to even make it through High School, never alone even try to achieve their dreams.
Regular donations make it easier to budget for longer term projects that can help develop students throughout their educational life. Click here if you would like to donate.