Laguna is flooded again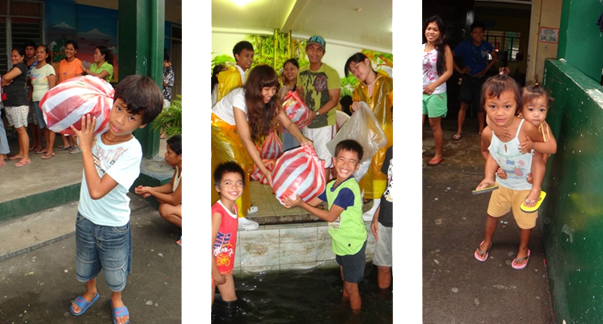 BIÑAN, LAGUNA
More than 76,450 people were made homeless in Binan, Laguna; many still live on the top floors and roofs of their houses since 1 1/2 months, waiting for the flood to subside. Springboard Foundation worked with long time-partner Hope Worldwide Foundation to bring relief goods. Looking down the flooded streets, we were reminded of the terrible flood after typhoon Ondoy in September 2009; we saw people wading through the water to reach dry ground, to get to work, school, or to do their shopping. Some made improvised bangkas (small boats) to use as transportation. The first place we conducted our relief operations was at Barangay San Jose, were 173 families are staying in the neighbourhood evacuation center. We needed to ride an improvised bangka to reach the evacuation center, and were quite surprised when we saw that the evacuation center was also flooded. The people were thankful to receive relief goods and grateful that we made to effort to visit them in their community despite the flood
Our second relief distribution in Binan, was in Brgy. Dela Paz, where flood waters were chest-deep. 100 families were staying at the San Vicente Elementary School which has been temporarily turned into an evacuation center. The evacuation area has only 10 rooms to accommodate the 100 families, and it was hard for us to imagine that 10 families could live together in such a small room.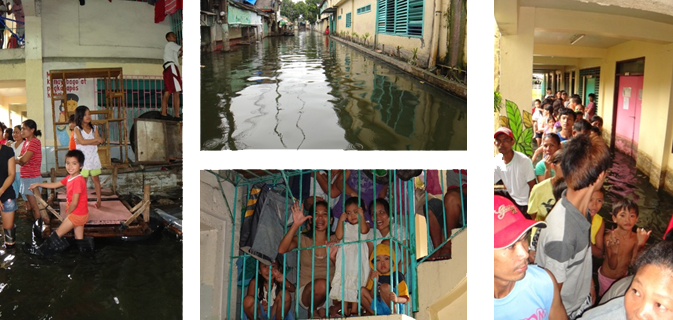 San Jose Evacuation Center; the black water can't be good for the health for the people living there
During our relief operations, I interviewed one of the mothers who is staying there with her 11 children. She told me what had happened to them during the flood. Her biggest fear during the rainy season is always that they might one day be trapped inside their home because of high flood waters. This time the water rose dramatically high but she was able to save herself and all her children, unfortunately there was no time to save her belongings. She always thinks about the safety of her children, and said that given the chance to be relocated, she would be more than willing to leave. Her house was still partly submerged in water at the time of our visit, she has tried to go back to her house to see if she could salvage some of their belongings, but was unable to enter because the water level is still chest-deep. Whenever it rains hard, she fears that their personal belongings get washed away, or are damaged by flood waters.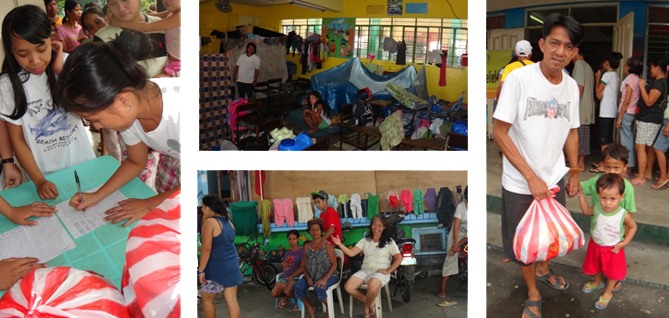 San Vicente Evacuation Center
Some of the residents of Brgy. Dela Paz prefer to stay on the roofs of their houses over staying in a crowded evacuation center . The flood water in the neighbourhood is full of garbage and sewage. We saw children swimming in water that was black and thick, plastic bags and other refuse float in the dirty water along with them. It is a place ready for disease to strike, and no end to the flood is in sight since the water level has dropped little in over a month. People need food, water, toiletries, medicines and clothing. Some houses have electricity; which is worrying because the outlets and lines are submerged in the water.
Summary of Affected Families and Damaged Properties
| | |
| --- | --- |
| Number of Affected Families | 18,840 |
| Number of Totally damaged | 0 |
| Number of partially damaged | 0 |
| Number of families underwater | 18,840 |
| Number of Casualties (dead) | 1 |
| (Injured) | 0 |
| Number of Evacuation Centres | 10 |
| Number of Families in Evacuation Centres | 3,578 |
Relief goods from Springboard Foundation were sponsored by the International British Academy, and last September 2, with the help of Hope Worldwide, Springboard distributed relief goods, including food, rice, milk, water, clothing , diapers, toiletries, medicines and blankets to 273 families.
A big thank you for the sponsor and NACSEA youth and Hope volunteers who helped us during the relief operations. If you would like to contribute towards bringing relief to the families please contact us: 821 5440/ 343 3309/ 09228396412 or e mail info@springboard-foundation.org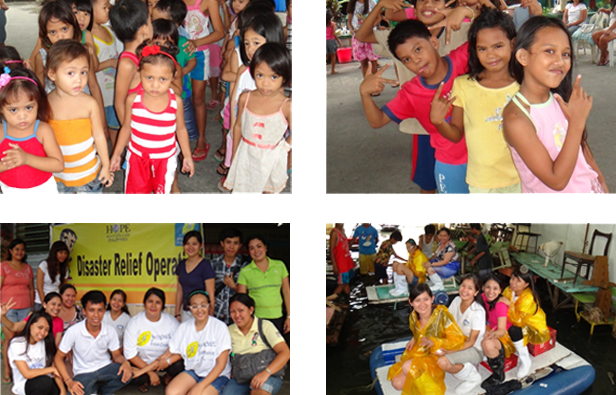 Relief Youth, Hope Worldwide & Springboard Volunteers