Manila Made International News Again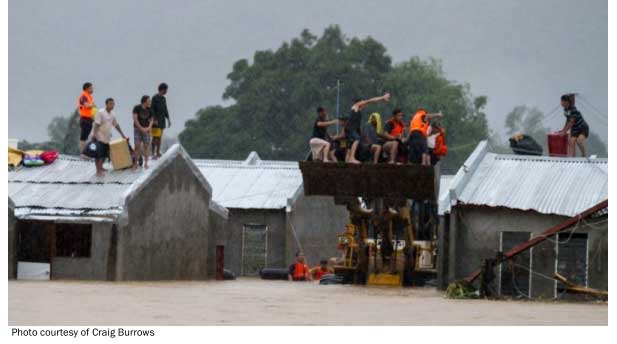 CNN Weather News Video: Philippines Flood and Typhoon Update For August 7, 2012; Tens of Thousands Evacuated, 53 People have died in the floods
Reuter video: 
http://writingshares.com/cnn-weather-news-video-philippines-flood-and-typhoon-update-for-august-7-2012-tens-of-thousands-evacuated-53-people-killed-so-far/
Typhoon Gener (international name: Saola) hit the Philippines, many families and livelihoods were washed away. Springboard Foundation is helping through the Asian Student Christian Foundation – Mango Tree House, Cashew Tree Learning Centre and Papaya Academy as we did during typhoon Ondoy. Now we are seeking help again. More than 1000 people found refuge in the facilities of the Asian Student Foundation. This heart wrenching tragedy has caused these people to suffer immense pain. Less than 3 years ago they suffered the same fate and now that they were finally back on their feet their houses are flooded again.
Weeks of non-stop torrential rains have killed 53 people across the Philippines and forced thousands of residents to flee their homes on Tuesday (August 7). The heavy floods covered half of the Philippine capital Manila and pounded the nearby provinces. Water levels reached over some residents' head in several districts.
The flooding crippled traffic, shut down the stock market, and prompted schools and government offices to close. Welfare department said over 20,000 affected people across Manila and nearby provinces are staying in evacuation shelters, which are converted by schools and sports gyms. The floods raised fears of a disaster on the scale of Typhoon Ketsana in 2009, when 80 percent of Manila was flooded, and more than 700 people were killed.

Here is the report from Craig Burrows of Asian Student Christian Foundation:
Charity Schools Become Evacuation Centers as Floods Hit Manila
With more than half the amount of rain normally seen in August falling in 24 hours Manila is flooded. Roads are impassable and some streets are now underwater with barangays and local rescue teams using boats and other floating devices to get to stranded people.
At least 16 people have been confirmed dead so far but tens of thousands of people have been evacu- ated and many are missing. In Rizal province, where 21,050 people have been evacuated and the number currently affected stands at 46,865, Papaya Academy is currently home to over three hundred of people who have been forced from their homes while Cashew Tree House Learning Centre has given shelter to almost three hundred more.
Many people in Kasiglahan were left stranded on their roofs and had to be rescued with diggers and trucks being used for the people to escape the houses and rising water. The staff and children of Mango and Cashew are helping to feed and take care of those evacuated though for many it brings back memories of Typhoon Ondoy where for months afterwards Papaya Academy became home to many people for some months. However this time we had the water purification that Springboard donated last time.
With over 60% of Manila under heavy rains residents are thankful that they are beginning to subside and the floods are starting to recede. With the dams overflowing yet again, the damage will last for some time as houses are destroyed and lives have been lost. The rebuilding effort will begin now and involve communities needing to pull together to help each other. With Kalinga at Pag-Ibig and ASCF working together in Kasiglahan – with the staff and children of Papaya Academy, Mango, and Cashew helping each other out – that uniting spirit is being shown. One of the reasons is that squatter areas and other poor areas typically do not report as much of the damage and as many of the deaths that occur. Some of the people remain unregistered, without birth certificates and other documentation, while it is also difficult or impossible to get to the nearest government units and hospitals. One case in Cashew saw a child suffering from suspected dengue sent to hospital in an ambulance but return later that evening as the roads were too flooded to get there.
These are the additional problems caused by typhoons and floods, secondary emergencies which need to be addressed to avoid further illness. However people within the community are taking care of each other and the people in the evacuation centres of Papaya Academy and Cashew have been taken care of and fed.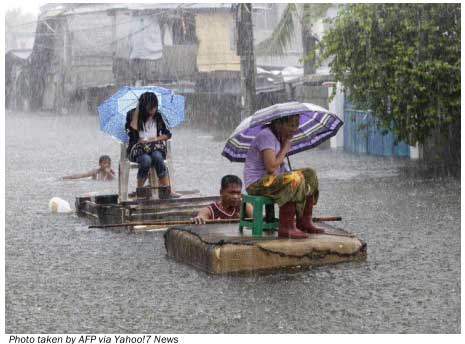 Donations
However there is still a huge need for a variety of things which would make the rescue missions and distribution of emergency goods easier. With many still stranded there is a great need for food, preferably uncanned and ready to eat. Clothes and baby supplies, such as diapers, are also are needed generally, whilesleeping mats and blankets would provide evacuees with something to sleep on and heavy duty batteries will help rescues and relief missions in the night.
Medicines are needed also, particularly doxycycline which is used to prevent infections and outbreaks of leptospirosis, which is caused by walking through flooded water with open wounds or cuts. Anti-fungal cream and paracetamol – preferably in liquid form for babies and children. Vitamins to keep them healthy.
Thank you so much for any help you can give, the photos only give a small window into the full scale of the disaster.
You may drop of donations in cash or in kind at 15 Melbourne St. Merville, Paranaque or call us to 02 821 5440/ 343 3309 arrange for pick-ups.
Transfers can be made to:
Hongkong Shanghai Banking Corporation Limited, Makati Main Branch
Swift Code: HSBC-PHMM
| | |
| --- | --- |
| Peso Account # | 000-179-069-040 |
| US Dollar Account # | 001-060-458-130 |
| Canadian Dollar # | 001-060-458-131 |
| GBP Account # | 001-060-458-195 |
| EURO Account # | 001-060-458-133 |
Or alternatively to our account at the Bank of the Philippine Islands, Magallanes South, Pasay City Peso Account # 0081-0592-09
For online donation please copy the link
https://secure.springboard-foundation.org/donation.php
Please scan and email the deposit or transfer slips to info@springboard-foundation.org or fax to 02 821 5440 and specify the details of your remittance (name of donor, date of transaction, contact information). So that we can send you an official receipt.
With warm regards,
Springboard Foundation, Gina, Annette Sarah, Michael and Mike