SPRINGBOARD FOUNDATION
15 Melbourne St.
Merville Subdivision
Parañaque City
Attention: Ms. Annette Helbig
President
Dear Friends,
Greetings from your growing Tuloy family!
We can never thank you enough for making living miracles happen in Tuloy through your continuing support. Your recent donation of assorted musical instruments only shows that you share in our long-term vision for children at risk.
In the face of present economic difficulties in the Philippines, Tuloy is living proof of the power of faith. This year alone, 82 boys and girls have, to date, been admitted for residency, giving them hope. The Foundation is now serving over 560 young boys and girls here at the Streetchildren Village. Now 10 years old, our street children project still has much to do. These are hard times, and there is much anticipation in our hearts because we are uncertain of what the future may bring. However, this is no excuse for us to give up. The uncertainty of the future only strengthens our resolve to go on. After all, this is God's work and not ours alone… and CHILDREN IN DISTRESS CAN NOT WAIT.
Providing for the children's daily needs is becoming a challenge. However, with your untiring support and generosity, Tuloy will surely reach more distressed young boys and girls in time. We look forward to a long and meaningful partnership with the Springboard Foundation.
Very truly yours,
Fr. Rocky Evangelista, SDB
President and Project Director
Now

 This is what it look like!

The new look Pedia Ward
(picture taken last January 19, 2005)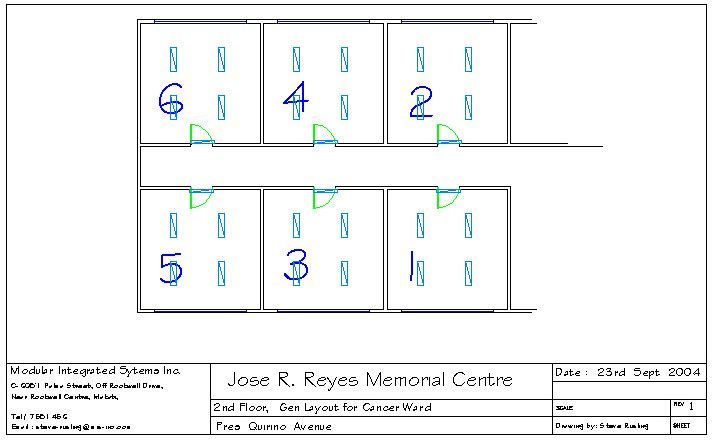 Jules Roxas
Mrs. Lim
Linda Zhai
Willow Mangan
Sara Griffen
Manuel Balasia
Saturnino Vicente
Tess dela Cruz
Paul Cassidy
Nilda Avecilla
Judith Mamaril
Graham Blackmore
Cheska Pineda
Iana Hwang
Ethel del Rosario
Jing Jingco
Hannelore Schneider
Natalie Le Saux
Lana London
Skyler Van Bezooijen
Phina Lee
Dulce Baldoria
Pranav Sadhwani
Loren London
Danielle Dy
Jack Park
Phileo Lee
Hazel Go
Joan Lee
Kaye Enriquez
Mia Walter
Adam and Justin Liang
Charles Lontoc
Lita Marcelo
Tori Beaver
Debbie Fullerton
Lorelei Echanis
Cheryl Lontoc
Peter Kim
Ellinor Granstrom
Conrad Lee
Michelle Almanzor
Micah and James Liu
Brigette Ann Javier
Ronald Escultura
Kimberly Go
Todd Hardeman
Rogelia Cañizares
Lulu Sian
Joma Ejercito
Bambi Fernandez de Castro
Mariel Guzman
Mrs. Capule
Gio Ugut
Brent MS Student Council
Brent Grade 2 Students
Mr. and Mrs. Mar
Q2 Search Inc.
Brent School South Campus -MS Council
British School Manila – PE Department
Bosch
DSM Nutritional Products
Mikey Ripoll
Stephanie Bell
Michael Widener
Paul O'Callaghan
Mike Templeton
Nadine Ostermann
Matt Cullen
Roy Dallison
Danny Giles
Rainer Helbig
Annette Helbig
Gina Tuason
Ann Smith
Malaysian Assoc. Philippine Ladies
Philippine Rugby Football Union
Manila St. Andrew's Society
Catriona Greer
Renata and JD Young
Springboard Foundation
Nestle Philippines
HMR Group of Companies
Interadent
SGV Employee (Dean Nelson)
Sharon Mercado
Sue and Rod Ward
Ray Hendry
David Ames
John Milne
British School Manila PTA – Christmas Production Collection
Sabrina Leung/Lam Ka Keung (Janus International)


Mr. and Mrs. Fischer