SITE VISIT IN COMPOSTELA VALLEY (by Gina Tuazon, Program Manager of Springboard Foundation)
         I arrived in Davao last July 19, 2013 at about 6:30am and then travelled for 3 hours by car from Davao City to Nabunturan.
        We went to the first site where 6 sponsored shelter kits for the houses can be found. When we arrived in Nabunturan we were welcomed by all the beneficiaries, the partner organization from Barangay Nabunturan and Hope Worldwide. People were all smiles and incredibly grateful for having received such a wonderful gift as their own complete home. The program started after we had breakfast together. I wasn't expecting a big celebration but the families surprised me because they all had prepared their own performances as a simple way to convey their gratitude. They all told me about their tragic experiences during typhoon Pablo. Even after 7 months had passed, they still couldn't forget the tragedies they experienced and the heart-wrenching losses they had to face. Tears were streaming down their faces while they told their stories.
   One of the most compelling stories from the beneficiaries was told by Judith Lumesnero, widow with 3 children. Her daughter is married and her baby was a month at the time. Judith and her daughter hadn't seen each other for almost 3 years and when her daughter had the opportunity, she visited her Mum along with her baby and husband. It brought so much joy to Judith to finally see her daughter again and her grandchild for the very first time. The day that they went to meet Judith was also the day the typhoon hit and the barangay announced that they should evacuate due to the strong typhoon. Judith didn't believe the announcement because ever since she was a child she never experienced a big flood in their area; but to her surprise around 2:00am last December 4, 2012 the flood started to rise accompanied by heavy wind. A coconut tree fell on top of her house and Judith feared that her daughter didn't make it out alive because no matter how often she called her daughter's name there was no response. Judith said that she actually had no way of getting out of the house herself because the big tree had destroyed the entire house and she can't remember how she got out, but suddenly she saw her daughter and son-in-law, both having head injuries and bleeding profusely after being hit by the big tree when it fell. She didn't know what to do with all the commotion and panic around her. Next thing she remembers is that they all were in the hospital.
Inside her house everything was broken. She is very thankful because for almost 6 months she was living in the resettlement area and now she can live in a house she can call her own with the help of the NAK Karitativ, Hope Worldwide and Springboard Foundation. She said that she will forever be in debt to the donor for all the help she received. Of course we re-assured her that this was not the case at all, but the help given was with gladness and entirely free.
An old man said his entire live he did not experience a flood. They lost of their crops and livestock. This is the only source of income they knew. They thought this is the end of the world for them because they lost everything and didn't know how to recover. With the house they were able to start rebuilding their lives and started to till their fields because they also received start-up seeds. He is so grateful that somebody would help them in such a big way.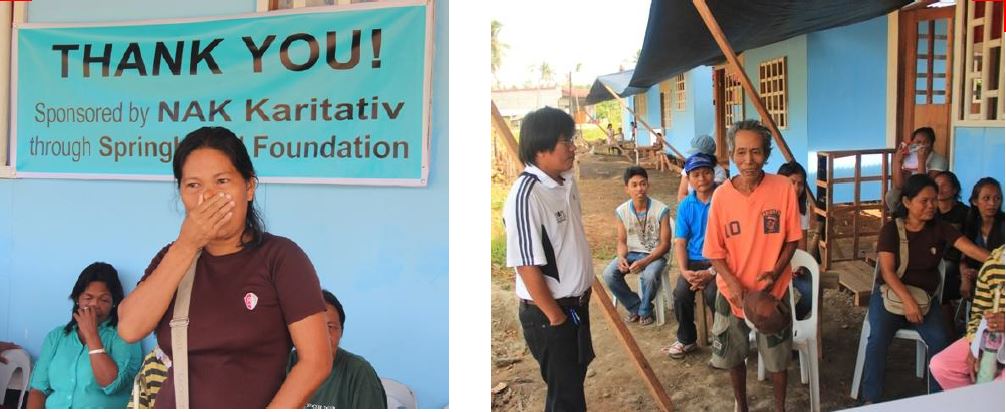 All the beneficiaries have their own harrowing stories; stories that will touch your heart because you can feel how deeply affected there are by the traumatic events. After they told us about their experiences we had lunch together and then I started visiting all the houses. They are beautiful, spacious for a house in the province, bright and airy and the families are decorating them with plants and flowers. Inside the families have build room dividers and they like the linoleum flooring because it is easy to keep clean. The families love their new homes; they never expected their home to be of such good quality. 25 houses were completely finished and the other 10 were 85% done at the time of the visit but are now also completely finished.
I also went to Maparat bank house (temporary shelter for typhoon victims) where I had a meeting with the people from Gawad Kalinga. They told me that the first proposed site was not available anymore after Springboard received approval for the project from NAK Karitativ because they gave Springboard 3 weeks only to reserve the place for the project and they were able to get donations for this site from other donors. They proposed another site in Maparat where they can build the houses within 6 months after the donation has been received. They showed a place in Maparat. The location is good. I had the opportunity to interview and talk with the prospective beneficiaries of this housing project there. Almost all of them only have 2000 PhP (about 35 Euro) income every month. This is very little and they are having a hard time budgeting their money for all their needs. In my opinion all of them deserve to be helped due to the difficult circumstances in which they live. I saw sincerity in their eyes while I was talking to them.
We also visited the place in Monkayo where Gawad Kalinga was still finishing the 95 housing that we initially proposed for your support. The houses were nicely built in a friendly environment. They have a community garden where everybody is growing vegetables. The new housing project site is located in Maparat and both are in the Compostella proper. It is close to the workplace of the families living there and has easy access to public transport.
  All in all it was a wonderful visit. I was touched by the people I met and am grateful to be able to be part of this project that made the quality of life of these families so much better and brought such happiness to people in despair. Thanks again for the generous donation of NAK Karitativ. Because of your donation, these families could start new life with their new beautiful houses.