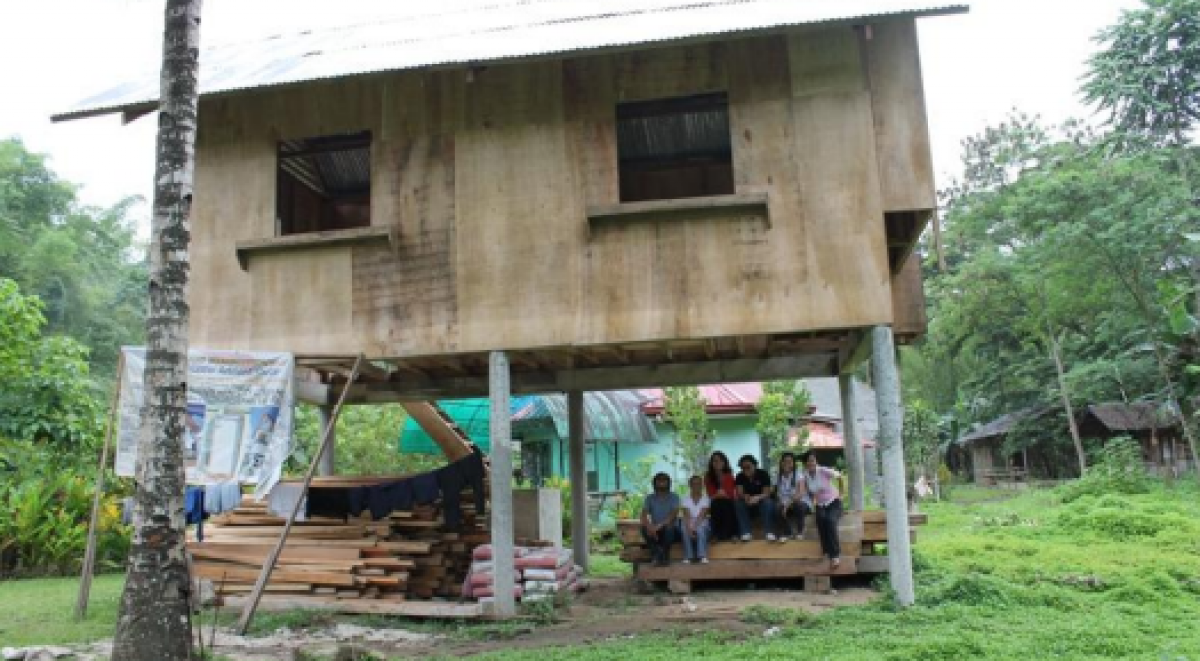 New home, new hope

Our trip to Iligan last Thursday, July 25 to Friday, July 26, 2012 was impressive in many ways. Gina Tuazon and I, Annette Helbig, went to visit the people who were still living in evacuation centers, 7 months after their homes were destroyed by flash floods and landslides from Typhoon Sendong / Washi in December 2011.
Springboard has now been working for some time with Ecoweb and VSO to gather support for 300 houses to be built for some of the victims of this tragedy.
Gina and I flew to Iligan to attend a meeting with a cement company which would help us with this project. We wanted to get a feel for the place and the people before the meeting, so we arrived a day early. Arriving in Cagayan de Oro, it was easy to see that the city is not poor. Well-to-do subdivisions seem to grow like mushrooms along the road from the airport towards Iligan.
Some houses could easily match the splendor of houses in Ayala Alabang (one of the posh subdivisions of Manila). However, the picture changes drastically as we approached Iligan. Iligan is an industrial town. Large factories (cement and steel among the biggest ones) lined the side of the main road near the ocean. The harbor, we heard, is deep and can easily cater to the large ships that we saw coming and going. A good place to do business, it seemed. Yet the houses of the people reflected nothing of the money being made here. To me, this seemed to be the poor step-daughter of Cagayan de Oro.
A Cinderella perhaps?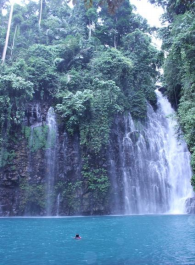 Nunuy, a volunteer of VSO, joined us as our guide. We did our research on Iligan before flying there and learned that there were many waterfalls nearby. We asked to see one of them. Nunuy brought us to Tinago Falls. The 400 steps down, and later, up again, were quite a challenge, but the reward was amazing. A turquoise lagoon awaited us with water cascading down from the surrounding mountains. It felt peaceful and was absolutely beautiful. We all cherished the moment. Unfortunately Gina and I were both not feeling well and couldn't go for a swim or take a bamboo raft under the waterfalls. We will have to go back another day. In moments like these, one forgets that water let loose can become a destroying force. Here, it is nothing but peaceful and beautiful. On the way to our rest house we saw a different picture altogether: hundreds of families living in tents in evacuation centers.
They survived the destructive forces of water and wind 7 months earlier. Nunuy told us there were 5,000 families still living in those tents. FIVE THOUSAND, I couldn't believe what I heard. If you estimate each family to consist of an average of 6 members, that comes out to 40,000 people! We couldn't wait for tomorrow to learn more about the situation in Iligan. Though Nunuy had given us a lot of information about the community, it is only when you get to meet the people and talk to them that you can grasp the extent of what they are going through.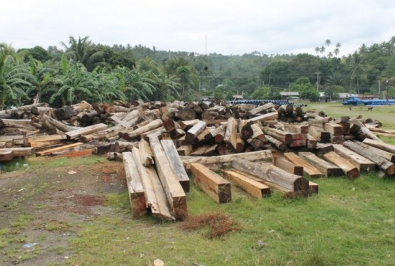 Ecoweb has received permission from the to collect all the logs that tumbled down the river, for the construction of the houses they are planning to build. These houses, called "safer homes" are designed to be built on stilts, and that piqued our interest when VSO presented the idea to us. What a great plan this was. Flooding is prevalent in the Philippines, we all know that, and yet we continue to build houses for the poor on the ground in low lying areas prone to flooding. Since Springboard became involved with helping the victims of typhoon Ondoy in 2009, I have been searching for a concept for houses on stilts. On Friday, we started by visiting the site where all the logs had been collected. Hundreds of logs were piled up in the area.
It doesn't take a genius to wonder where these logs came from. This disaster was clearly exacerbated by human greed. Who were these loggers in Iligan and why were they not paying the damages these logs caused when they crashed into the communities? A tired smile was all we got as an answer. Illegal logging seemed rampant still and the beautiful tropical forests of the Philippines disappeared into the greedy pockets of individuals without regard for the safety of the people or ecology. I come from Germany, and Germany is one of the world's largest producers of wood, a fact that surprised me because Germany is not a very large country. Planned forestry makes this possible. I know there is no need to rape nature the way it is being done by illegal loggers, but with the right guidelines and rules, a country can harvest its forest without destroying nature and subsequently, the people who live there.
So there before us lay the logs to be used to build the houses for the evacuees of Typhoon Sendong / Washi. Nunuy said that many logs have already disappeared and that they had a hard time guarding them. Also, a local church helped themselves to as many logs as they wanted without permission from Ecoweb. The safekeeping of the logs will remain a challenge until the houses have been built. And Ecoweb needs funds to build the houses. Next, we visited a site where people rebuilt their own houses in their community. These areas had been declared safe by the government because the flood that destroyed their homes was caused by heavy rain and strong winds known to hit the area only every 50 years or so. Other areas have been declared unsafe, and people there have had to move to the evacuation centers. The homeowners of the community were given building materials by Ecoweb and the Philippine Red Cross.
Coordination is always a problem during and after disasters, and it is often frustrating for the local organizations when international or national organization simply won't coordinate with them. A simple system of tracking down beneficiaries and donations received on personal identification cards was recommended by the government, but one wonders why some families receive double allotments, while others are left behind with little or nothing. International organizations prefer to work with partner organizations that have records with them and so local organizations that are familiar with the area are left behind again. Yet, these local organizations are left to deal with the aftermath after the international organizations feel they have done their part, and leave. I have not been able to see any reports from the Philippine Red Cross with details as to who made donations for the victims, and how their budget was used. Why is it so hard to get that information? Here is an organization that wants to build houses, already has the land for the building, but can't get the funds to build them. Why can't they access those funds?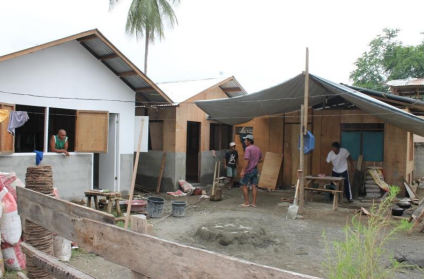 So there we were, 7 months after Typhoon Sendong / Washi, visiting about 5,000 families living in tent cities. We met some of the families and got to talk to them about the challenges they faced every day.
Next, we visited a site where semitemporary houses had been built. The houses were built on stilts, made mainly of wood, which looked like they provided decent shelter from the rain and the sun. The houses looked like they had adequate living space for the families as well. A well provided water for the community. The families there seemed to be doing quite well, but most of the people had no work because they had been relocated far from their original homes, and no work was available near their temporary shelters.
Our next stop was one of the tent cities. We were told that about 400 families were living there at the time. Tent after tent, with very little space in between, we saw families trying to live their daily lives while waiting for a permanent home to live in. During the summer, they told us that the tents got incredibly hot, not just during the day, but also at night. To me, this looked like a temporary solution which is great after the first few weeks after a disaster, but by no means should anyone have to live there for 7 months. People looked depressed, as their eyes stared out into the distance. The usual warm greeting smile you see when you meet a Filipino family was absent from their faces. It is the rainy season now and everything was muddy. Just a few days ago it rained harder than usual, and the area got flooded. "The water was knee deep in my tent," laments a father of one family there. "How can we live like that?' he asks. I had no answer for his question and could only say how sorry I was for their loss and that it must be very hard for them all. He had tears in his eyes when he said: "Yes, it is very hard." Some have found work for one week with a local construction company but have not received payment for the past 4 months.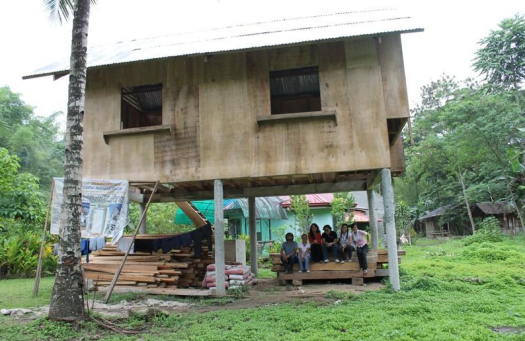 It is a daunting task to organize the relocation of the victims; finding the land as well as the resources to build the new homes. We met the Barangay captain during our visit. She seemed like a lovely lady, but it was clear that she was totally overwhelmed with the size of this problem. A part of the population is Muslim while the others are mostly Christians. So many things have to be considered when new communities are built, and Ecoweb, together with its local partners, is busy trying to get to know the people better, and to take their preferences into consideration regarding where and with whom they would like to live. We were amazed at their dedication and conviction that this must be done right. The people have to be respected and their homes should be safe. After all they have been through; they should feel safe in their homes so they can get back on their feet again.
The house, designed by Architect Loma of Ecoweb, free of charge, fulfills those criteria in every way. Not only are the houses much safer, they are also beautiful, and the designated area is hilly and full of coconut and banana trees and is near a small river. The Good Shepherd Foundation donated the land and their members lived there too. They will help the people grow vegetables and …. Jojo Pacaldo of Kaabag Ranaw, a young social worker specializing in psycho social trauma counseling for children. She is busy with the social preparations for the new community.
Donations of food and clothing are getting sparse now. People have forgotten about Iligan, as new disasters hit Philippines all the time, and people assume that things have become somewhat normal again after such a long time. But it is far from that. There is nothing normal about this and it is inhumane how the people now have to live. They can't even leave their tents to seek shelter with relatives for a while, because once they leave their tents they are not considered a priority anymore and will not receive a new home. Leaving the tent means losing their right to a new home. Therefore they stay, enduring the heat and the floods, hoping that the day when they will receive their new homes is not too far away.