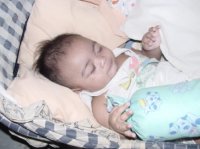 REHOBOTH CHILDREN'S HOME (ASIAN HOPE MISSIONARY OUTREACH OF AUSTRALIA, INC.)
Bob and Barbara Morris Tel. No. 911 7640 / 6745163
Rehoboth Children's Home provides much needed supervised shelter, a medical center and a learning facility for numerous destitute children. The centre is located in Tanay, Rizal.
A total of 180,500 Pesos was given to Rehoboth Children's Home.
Project progress: Installation completed

3rd week of October, 2003
Our Project: Water filter system for a clean drinking water
September. 2003

•

80,500 Pesos

for a water filter system
Our Project: Medical facilities for orphanage and birthing home
April 2, 2003

•

100,000 Pesos

was donated for the medical facilities for orphanage and birthing home