Springboard Foundation: Typhoon Ondoy Relief Update – 
What a Great Week!
It's been a while since we've sent out a progress report on our Typhoon Ondoy (Ketsana) relief operations, but three hugely successful (and completed) relief projects have taken up much of Springboard's time and manpower over the past week.
First off, on Wednesday, November 4th, we teamed up with the Cararoo Foundation to distribute relief goods to over 40 families living in a "hidden" squatter areaflooded during the typhoon right here in Merville (Springboard's home base).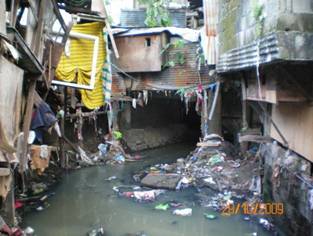 Squatter area behind Merville storefronts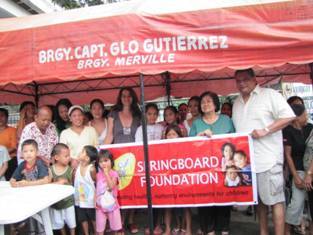 Happy faces on relief goods distribution day
Then on Friday, November 6th, we had a big day in the Binan-Laguna area, where Springboard arranged for a team from Biotech Philippines, led by Mr. Chito San Augustin, to disinfect seven of Binan's nine still active evacuation centers, joined forces with WE International and the Hope International to help Binan's Environmental Office with their garbage collection rounds in the still-flooded areas in Malaban, and provided bags of fresh fruit for the 2,000 families selected to receive relief goods during a joint distribution operation by the Binan Municipal Government, Brent International School/ ABS-CBN Foundation, WE International, Hope International, and Springboard.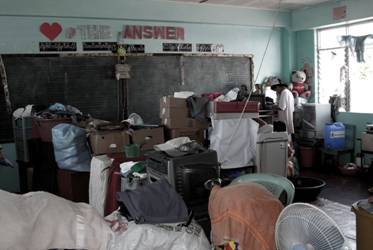 15 families to a classroom in this evacuation center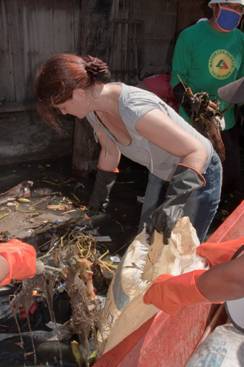 Getting down and dirty with the floodwater garbage in Malaban
| | |
| --- | --- |
| Oh, the humanity… 2,000 families receive relief goods | |
And, last, but not least, on Sunday, November 8th, we conducted a medical mission, led by Caroline Cliff, at the evacuee tent city in the Montalban area of Rizal.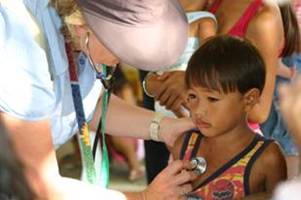 One young patient gets a check-up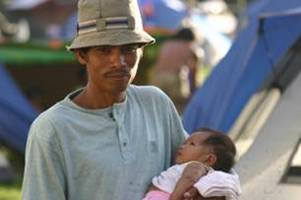 A father and child together at the "tent city"
Please see the attached document for further details (including more pictures) on these projects!
Of course, six weeks after Typhoon Ondoy, more still needs to be done in terms of recovery and rebuilding, particularly in the Binan-Laguna area, where flooding continues to persist and the water level is over five feet high in some places.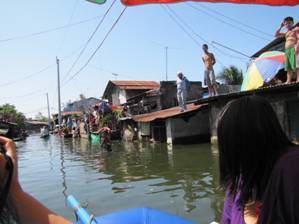 People still on rooftops in de la Paz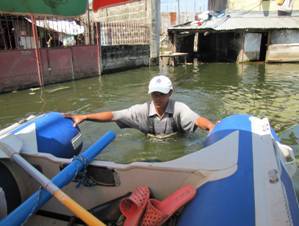 Man pushes our boat through chest-high water
Contaminated floodwater in de la Paz and Malaban, which plays host to water-borne diseases such as leptospirosis and poses transportation challenges for residents, and overcrowded evacuation centers in elementary schools, where 15 families live together in one classroom in some cases, are among our primary concerns at the moment.  In our weekly planning and coordination meetings with the Binan local government and other local NGOs on the ground, we continue to look for new locations for the temporary relocation of those already in evacuation centers, and, more importantly those who still remain in the flooded areas.   
Unfortunately, our efforts continue to be stymied by a national government which will not allow, for example, the use of a local trade school under its administration, nor will it put pressure on local landowners to lease their vacant and unused property for "tent city" or other temporary housing for evacuees.  Nor has any progress been made in building the Paranaque Spillway to help lower the water level of Laguna de Bay, which would alleviate the current flooding in the areas bordering the lake as well as greatly lower the risk of such catastrophic flooding to occur in the future.