Plane crash news Springboard Foundation
You might have seen it on CNN or BBC:
http://www.ask.com/videos?ch=vid&l=d is&o=16142&pg=1&q=cnn%20video%20about%20%20plane %20crash%20in%20paranaque%20dec%2010.11&qsrc=180
Last Saturday afternoon, a plane crashed into a residential area in Parañaque City, killing at least 14 people. The crash site is about 100 to 150 meters away from our Springboard Foundation office. The plane crashed soon after taking off and was fully loaded with fuel, which sparked a huge fire that destroyed 82 houses, and severely damaged the nearby elementary school. F. Serano Sr. Elementary School serves 3, 652 students. Luckily there were no classes at the time of the plane crash. The school is now closed and the children will attend classes in makeshift classrooms until a new school can be rebuilt. The tragedy took the lives of 14 individuals, injured countless more, and left 82 families homeless.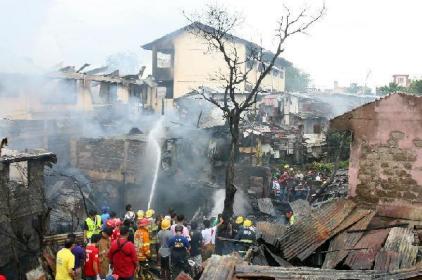 We recently visited the plane crash site and interviewed Frank Reflorido, who told us his traumatic experience. He is devastated that he was not able to save his own sister, who was trapped, and died in the fire. He now has trouble sleeping because he says he can still hear her voice pleading for help. Frank was able to save his neighbor, who is now recovering in a hospital, but that doesn't help his broken heart, after being unable to save his sister. Watching her die, and not being able to do anything is a terrible experience he will never forget.
Twelve injured people, five of them with second- to third-degree burns, were rushed to the Parañaque Doctors Medical Center
So close to Christmas, this heart wrenching tragedy has caused these people to suffer immense pain. They've lost their belongings, and their homes. Now they are desperately trying to find a way to continue their lives, and get back on their feet again.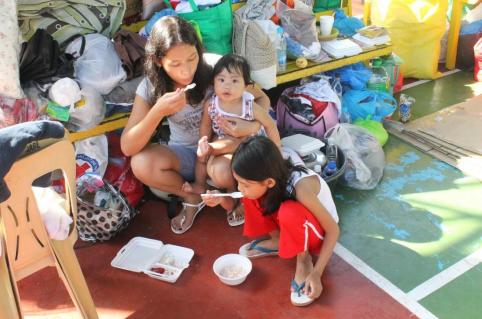 Springboard is planning to conduct a relief operation. Can you help us bring some relief?
We need food items, pails, dippers, and wash basins, big bags for the storage of clothes, soup bowls, and cups as well as hygiene products. The school needs materials to construct temporary classrooms in the hallways, and the gymnasium of the church will also be used when classes resume in January, while the new building is being constructed. The evacuation area provides only 2 toilets for the 71 families staying there, while 11 families chose to stay in their destroyed houses.
Please contact us if you wish to donate either in cash or in kind, or if you can volunteer for the relief operation. The community leaders will help to organize the operation. Time and date will be announced later.
You may drop of donations in cash or in kind at 15 Melbourne St. Merville, Paranaque or call us to arrange for pick-ups.
Transfer can be made to:
Hongkong Shanghai Banking Corporation Limited, Makati Main Branch
Swift Code: HSBC-PHMM
Peso Account #
000-179-069-040
US Dollar Account #
001-060-458-130
Canadian Dollar #
001-060-458-131
GBP Account #
001-060-458-195
EURO Account #
001-060-458-133
Please scan and e mail the deposit or transfer slips to info@springboard-foundation.org so that we can send you an official receipt.
For online donation please click the link
https://secure.springboard-foundation.org/donation.php
With warm regards,
The Springboard Foundation