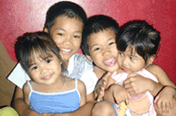 SHIPHRAH BAHAY PAANAKAN/THE LITTLE CHILDREN'S HOME
Dennis Gunderson, Executive Director, Tel. No. 658 4503
Shiphrah Bahay Paanakan is a midwife-driven birthing home that reaches out to marginalized women and their families with respect and excellence in maternal health care and education. Shiphrah provides antenatal care, maternity, post-partum and well-woman check-ups. They also conduct a rural outreach to marginalized women on Talim Island.
The little children's home is a temporary child-caring and placement agency in the Philippines involved with local and international adoptions. Both of those ministries have opened the way to become involved in effective community development work.
A total of 318,701.50 Pesos in cash and in kind was given to the Shiprah Bahay Paanakan/The Little Children's Home.
Our Project: Expanding and renovating of education center for women
November 30, 2010

•

26, 630 Pesos

Cash donation for the purchase of tables and chairs to be use for the trainings for the mothers.
June 19, 2007

•

3,000 Pesos

In kind donation of assorted toys and changing table
October 3, 2006

•

13,390.50 Pesos

was given for the additional cost of the improvement of washing area and kitchen
August 16, 2006

•

50,000 Pesos

was given for the improvement of kitchen , washing area and for the purchase of washing machine
June 15, 2006

•

39,970 Pesos

In kind donation of high chairs, strollers, car seat and assorted toys
January 19, 2006

•

4,200 Pesos

In kind donation of 12 bags with children stuff
September 29, 2005 •

195 Pesos

In kind donation of 36 pieces of diapers
September 22, 2005

•

27,000 Pesos

In kind donation of 10 pieces of Dignity & Courage books
June 8, 2005

•

16,916,00 Pesos

was given for the additional cost of teaching area for women
December 14, 2004

•

30,000 Pesos

was given for the improvement of the teaching area for women
November 25, 2004

•

70,000 Pesos

was given for the car repair, chairs, printer, sound system, oven, hard disc
May 9, 2003

•

5,000 Pesos

was given for the purchase of medicines of Grace Frias
March 17, 2003

•

5,000 Pesos

was given for the purchase of medicines of Grace Frias
March 17, 2003

•

27,400 Pesos

In kind donations of clothes, toys, an overhead projector, an oven, musical instruments and various other things