Rebuilding from nothing
I was impressed with what I saw when I visited our housing project in Baseco on July 18th. Springboard is funding the building material for 20 houses for families that lost their homes during one of the past typhoons. These families used to live right on the ocean, making their homes vulnerable to strong rains, winds. To avoid future calamities, for these families they were relocated to Baseco.
Ten houses are in different stages of construction – some are still just made of wooden frames, while others are completely built and even beautifully decorated. The work was done by the families themselves. The government allocated the lots to the families and promised to raise the ground level; Of course they haven't started yet. The families were left with no choice but to raise the ground themselves. One man told us that he had to get 50 small trucks of land fill (construction waste and soil) he had to bribe the guards 300 pesos each time to let him bring it to his place. The walkways in their community are narrow and I have no idea how they managed to bring the land fill to their homes.
First, we visited the day care and youth outreach center of Hope Worldwide in Baseco. They are our partner organization that organizes the building of the houses. All in all there are 90 houses to be build, but they are having trouble finishing them due to constant flooding in the area, and the government won't fulfill their promise of bringing in materials to raise the ground level. The families have been assigned the site for their new homes but most of them are stuck because the area is August, 2012 Rebuilding from nothingswamped. The conditions there are far from ideal for the people, but it will be much better once it is all done.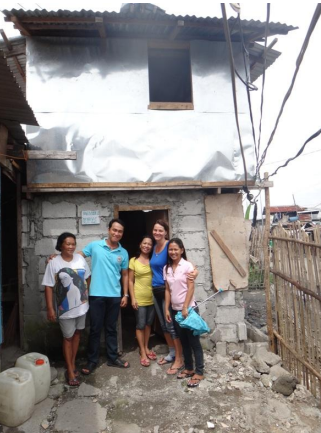 What made this visit so special were all the families I met there. I visited their new homes and saw their work and we started talking a little about their lives. The first home was built by a lovely lady, probably my age, who had built the original house and then used her own funds (she does manicures and pedicures) to add a second storey. She was there alone and while I looked around I heard JR (the Hope project manager in Baseco) say to her: "My condolences, I am so sorry for your loss." I asked what happened to the woman who had smiled so welcoming to me, expressed her gratitude for the help she received, and talked so casually with me about the weather and the hard time she had raising the money to make her new home nice. I was told that her 19-year-old daughter had died 2 weeks before. Her only child. She is a widow. Her daughter had become sick and they went to the local health center, but received little help other than being given paracetamol for the fever the young woman had.
Her daughter got sicker and started vomiting some yellowish fluids but they had no money to go to the hospital and she died. I could see the heartache in the woman's eyes and I was speechless and shocked. Thinking of my daughter who is just one year older and not wanting, nor, being able to imagine the pain it would cause me if that had happened to her. And yet she goes on thinking about how she can work harder to raise the money to finish her home.
We went to the next two homes where men were busy building. The house was not yet finished and one man said that they had made it bigger than originally planned because he was counting on his brother who had a stable job to provide the funding for the extension. Unfortunately, his brother died just a few weeks before. We couldn't do much more but to give our condolences.
The next place we visited was a cluster for 6 homes built together to make one big house. 4 were finished and were really nice. A young woman of 27 years was showing me her place with her little daughter of about 5 years who was sitting next to her, watching us with a shy smile. The young woman was so skinny and clearly malnourished, her daughter looked very healthy and nicely dressed while her Mum was in rags. She told me that she used to have children, but unfortunately, she only has her daughter now. In 2008, her 2-year-old son drowned when he fell off the pier and into the ocean. She thanked us for helping her built a home.
Another lady invited us in and proudly showed us her place, which was nicely furnished because she has relatives in Australia who help her out. Everywhere we went we saw extreme poverty and yet the people smiled at us, invited us to join their lunch or the games they were playing. I stopped once in a while to talk to some people and they always humble me with their friendliness and their desire to do something for me. I saw one elderly lady walking around in huge blue rubber boots and when I asked her why she was walking in rubber boots, she smiled and said because her legs get itchy from the water which is everywhere. She showed me her house. It was flooded inside. She has to wear boots because during the rainy season, she lives in a house that is flooded almost all the time. But she hugged me with a big smile and was happy when I asked if she wanted to be in a photo with me. Can you imagine all this? There is so little I can do to help, the need is so overwhelming. The kids in the daycare made us feel a little lighter when we saw how happy they tucked in to their lunches. A program Springboard funds with the help of Charity Cat (from Puma), we provide nutritious lunches for the children in the center 3 times a week. We found out from their weight and height charts that they did very well once they go extra food and hardly got sick once they joined the program. The little ones were so cute and so good for us to get some cuddles. But again, we only reach a few, while so many need help. And this is such a small area when one considers the high number of people living in poverty in Manila alone.