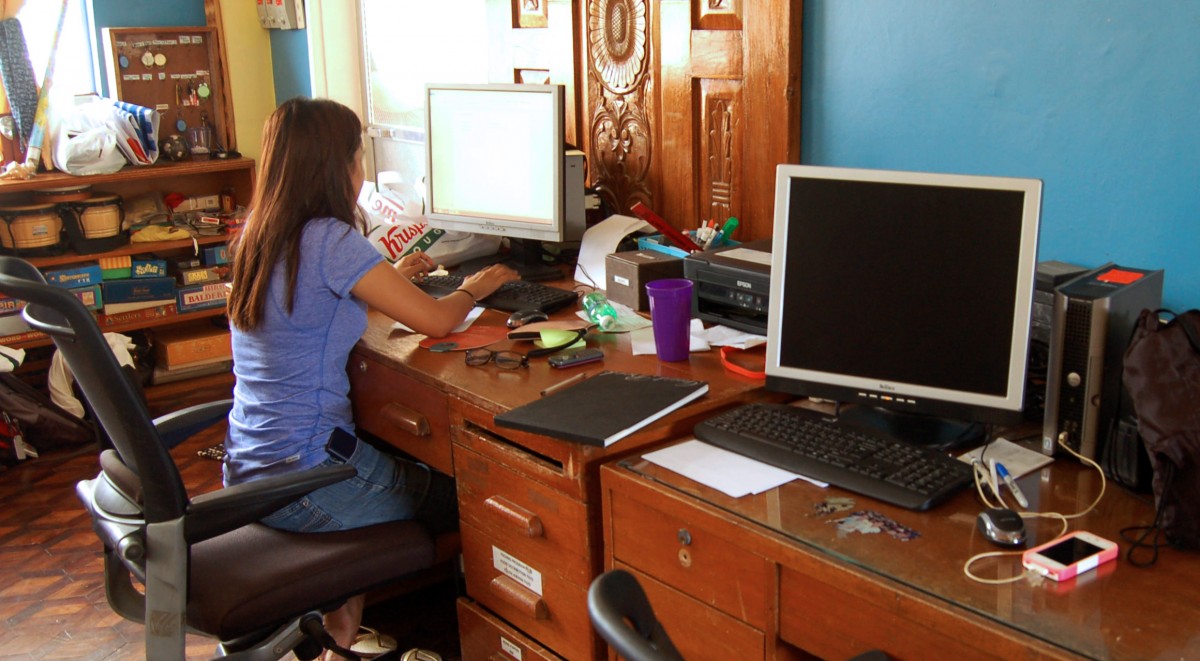 As a side project to the strenuous hard labour of playground building was the task of readying a consignment of over 70 computers donated by the city of Marburg in Germany. Being from a local city council, the PCs had to be wiped completely clean of all data, so resulting in a mountain of PC units with no operating systems.
Springboard Foundation Deutschland/Germany EV made all the connections that made it possible for the computers to be donated to the Philippines. Marico Engel secured the donation from the city of Marburg, Germany, Juergen Fett stored the computers until they could be sent to the UK, he also funded the cost of the gasoline of the trip to the UK and back; Matzke Gruettner drove all the way to David Berry in Hampshire in Great Britain, delivering the computers just in time for the shipment to leave for the Philippines. Matzke drove straight for 2 days to make this delivery and his way back home.
Here, Springboard had to organize the release and transport from Manila to Tacloban, which became easy thanks to the help of Stefan Schmitz and his wonderful team at Antrak. Unfortunately it became cheaper to pay more than 170,000 Philippine Pesos in import taxes than to wait for all the papers to clear as a non-taxable donation because the storage of the container at the port would have easily cost us more than that. A bitter pill to swallow but we had no choice.
---
---
Than we had to figure out the matter of loading the computers with operating systems which can cost up to 3,000 PhP a piece. Gavin figured out a way out of this dilemma.
The Philippines may have a relaxed approach to Intellectual Property Rights but we at Springboard do not. We decided on using an operation system called Linux, which is 100% free and 100% legal to use and comes with a lot free software that is on par with what you would find on a Windows computer. A win, win situation.
In terms of providing computers to schools, using Linux seems to be the future in developing countries as it is so simple to use, it is free, thus, greatly reducing the cost of providing computers to schools.
Leo, a recent recruit to Lighthouse was a massive help in installing the Operating Systems. Without him, Gavin says, he would have been reduced to a gibbering wreck within minutes being bamboozled by BIOS menus, SATA options and other nonsensical letter combinations.
Only 45 of the 71 computers arrived complete and intact, the remainder suffering from boot loops to damaged power units. We put this down to the stress of the journey, unfortunately they arrived completely unprotected in the UK. There they were packed into boxes but we figured more computers would have survived the journey if they had been wrapped up in a bit of bubble wrap from the start but at the end of the day we still had 45 working units!
Marico Engel managed to salvage what she could from Germany but she was unable to salvage a number of peripherals to make complete sets of computers. Peripherals like monitors, mice, power cables, keyboards, monitor cables, AVR units and plug adapters. If any of you reading this in the Philippines have any of the above spare, please drop us an email, under the subject header 'PC parts'. Or if anyone can recommend any good and free educational resources for Linux just drop us a message to the same address with "Linux Education' as the subject title.
Half of the working computers will be donated to Ricardo Bernas Elementary School in Roxas, where a brother of Marico Engel will ensure the proper use of the computers.
After talking to Gavin about digging holes and breaking rocks in brutal tropical mid day sun and sitting down doing computer things, he can safely say, that he would choose digging holes and breaking rocks over computers any day of the week.
Gavin is available at weekends for all your hole digging needs. Just don't ask him about computers.