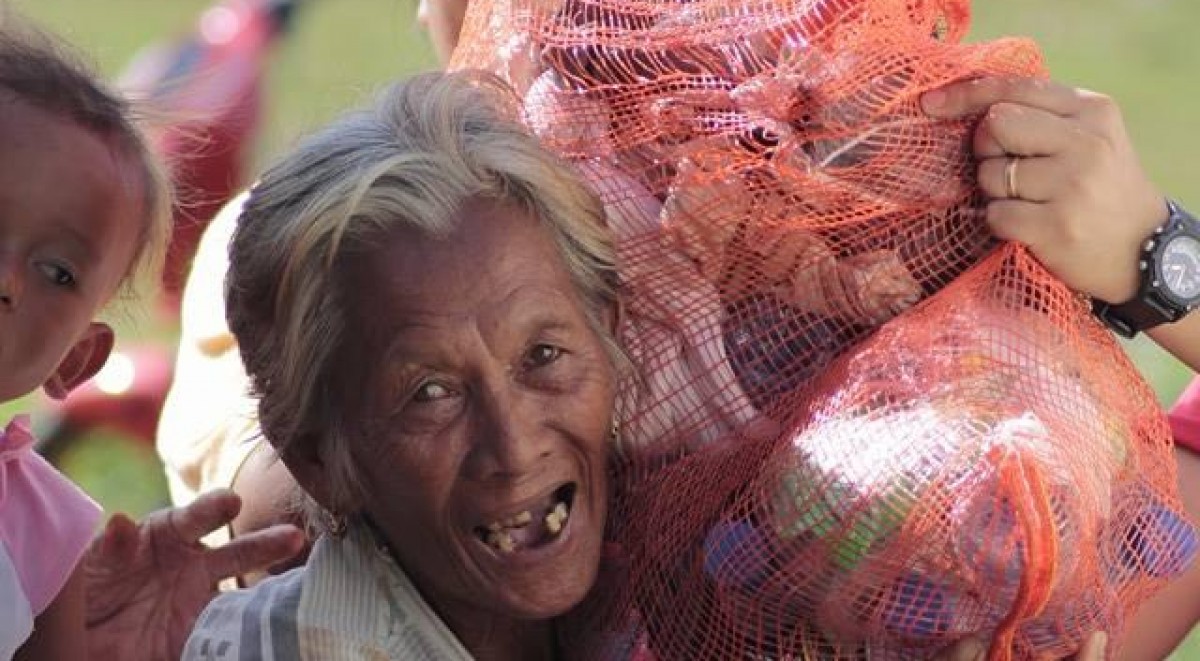 We now all know that over the weekend, 9th November, Typhoon Yolanda/Haiyan devastated large regions of the Philippine Islands. News spread slowly around the world as the homemade videos and photos were uploaded and storm chasers were able to report on their experience. A category 5 Storm, the largest the world has seen since the records began, whipped through the land laying waste to towns, agricultural lands, homesteads … whilst many coastal fishing villages were totally wiped out. It is now clear that nothing was a match for the ferocity and speed of the winds, rain and the sea surges.
Springboard Foundation leapt into action from day one with many of the supporters and partners wanting to help. Food, clothing and water was soon piling up at the various drop off locations set up and the task of trying to find ways to the many islands effected was one of the biggest in our history. Partnering with other groups ensured that efforts were not doubled up and also meant we could get more feedback from the ground and our relief goods to areas in need quicker. Whilst travel was slow with roads, ports and air travel delayed and/or closed we were able to work with the United Fire Group, the volunteer firemen who were brilliant at collecting and pushing through with the first delivery via plane to Tacloban on Wednesday. In that first week, a ton of goods were also delivered to the Biliran Province. By Thursday, we had met and agreed to support the Carigara team and we had loads with theirs heading to Leyte, Isobel and Samar. Since then we have piled goods onto a barge called 'The Queen of Hope ' – which seems very appropriate – which is on route to Leyte
Last Thursday the Union Church, Makati, offered us their basement space for packing and
we hastily arranged for as many volunteers to come and pack a ton of rice, canned goods,
sort through 100 boxes of clothing and get them ready for delivery and pick up. This was a
fantastic joint effort – with the ladies and gentlemen of the BWA, American Women's, Anza
and others all pitching in and working together.
Over the weekend, we loaded up 3 fire trucks with water and ready packed foods, and
bedding from the Dusit Thani, which were distributed in Northern Cebu and Bantayaan
Island. On Monday, we started loading up the LBC van – with ready packed bags, food and
blankets from ADP and a large box of medicines – to be shipped to Malapasqua, Northern
Cebu. This small island is one of the top ten best kept secrets in the world and the diving is
superb. They were decimated. They are now getting lots of support but they no longer have
a Doctor. So our indefatigable medical adviser, Caroline Cliff, was able to find a Dr. with ER
experience who agreed to go, find out what was needed and see what he could do
immediately.
We will await his feedback and are gearing up to send more meds to the island if necessary.
Rik Curkum, from the Auxiliary Coastguard in Puerto Galero, is currently in Northern Cebu
and reports back that wood is the most important thing! I am sure that rebuilding and
putting even temporary homes together is priority to many areas. Caroline is currently in
Borongan spending a few days with the team there and also assessing the needs. It is very
difficult to know what is needed from the various reports we all see on the news, Facebook
and other new media outlets, so it is good to get people on the ground to give feedback and
share photos. This week, we are able to use the Union Church again, and the troops have
been mobilized again to help. Moving this amount of goods from drop off areas to packing
areas to delivery is physically and logistically not the easiest but we have had such wonderful
support from our logistics partners: Lane Moving and Storage, Crown Relocation, Santa Fe,
HMR, Carepak, DB Schenker, CAPE – Their drivers are gracious and always go that extra mile
oft-times in the wee hours of the morning.
With the support of our partners we know that, moving forward, we have a responsibility to
work with organizations already on the ground. We have taken the time to do our 'due
diligence' – getting all their details, understanding their 'road-map' for the future and looking
into how best we can find meaningful projects that are traceable, accountable and
sustainable for the future, within in areas we know and through the people we know.
Springboard Foundation has always worked closely with those groups we support to ensure
that what is said is going to be achieved is. This ensures that our partners and donators can
really see what is happening and, if they like, also visit and see for themselves what other
support they might be able to provide.
One of the major challenges we are now facing is transportation! We are an island
nation, gasoline is scarce and, sadly, in some places the price has been inflated. The
companies who are lending us their space for free on their boats and planes also have their
businesses to run. Nothing impossible to achieve. It is with great pleasure that we have
been able to support The United Fire Association and Carigara, can amazing team of talented
ladies who are driven to ensure that those people in smaller communities get food, shleter
and support. But it does make moving goods around interesting! Springboard would like to
thank the following new partners: BWA, BSM, Dusit Thani Hotel, Auxiliary Coast Guards,
United Fire Service, MGIS, Scandinavian Society, LBC, UTI, German-Philippine Chamber of
Commerce and Industry, International British Academy, Team Merville and SOS Malta.
We would also like to acknowledge all those who have donated from the within the
Philippines and overseas – families who used to live here; groups who have heard of us and
our work and like what we do. We have been overwhelmed by the support we have already
received as well as those that have committed to the ongoing relief efforts, medical missions
and the future rebuilding of communities and livelihoods.
In kind and cash donations can be dropped off at
1. 15 Melbourne St. Merville, Paranaque or call us to arrange for pick-ups. Call
8215440/ 343 3309/ 09228396412
2. 7 Sabio Street, Ecology Village, Pasong tamo , Makati
3. 19 Talisay St., North Forbes, Makati City
4. 22 B Casa Verde Townhouse, Ortigas Center
Transfers can be made to:
Account Name : Springboard Foundation, Inc.
Hongkong Shanghai Banking Corporation Limited, Makati Main Branch
Swift Code: HSBC-PHMM
Peso Account # 000-179-069-040
US Dollar Account # 001-060-458-130
Canadian Dollar # 001-060-458-131
GBP Account # 001-060-458-195
EURO Account # 001-060-458-133
Bank of the Philippine Islands, Magallanes South, Pasay City
Peso Account # 0081-0592-09
Please scan and e-mail the deposit or transfer slips to info@springboardfoundation.org so that we can send you an official receipt.