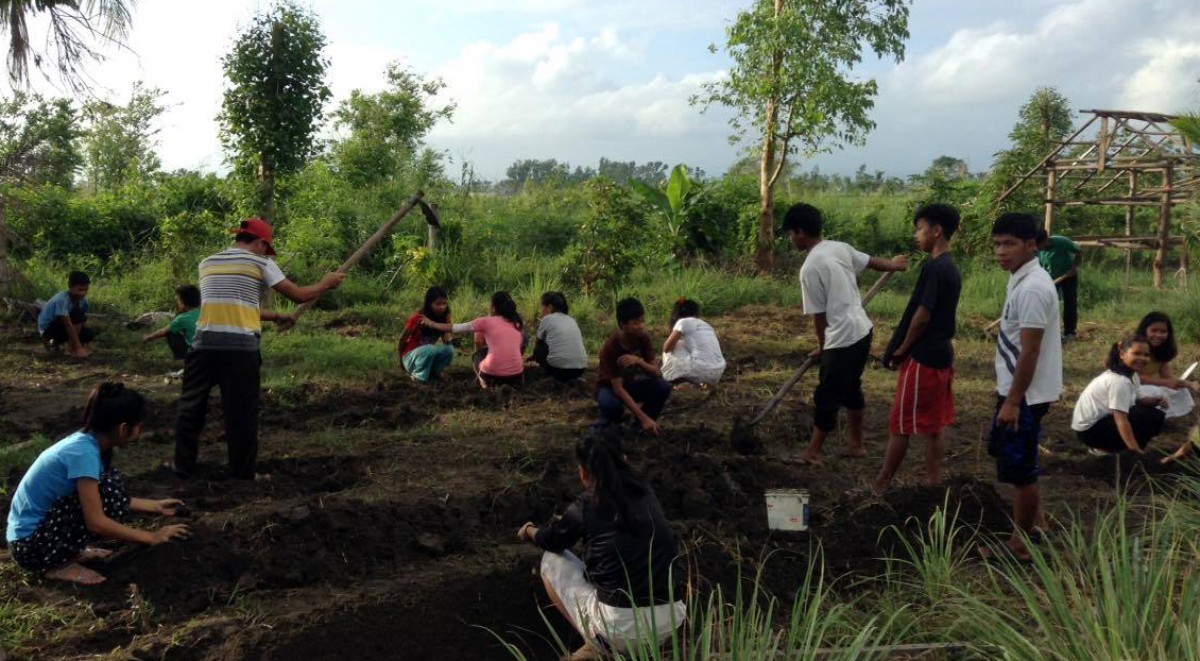 Children Living Outside of Time: A Story of the Mangyan Tribal People
Among the first to feel the mountainous landscape beneath their feet and walk lightly among the spirits of the forests on Mindoro, the Mangyan Tribal people live on, albeit separate from the more modernized provinces. As a Springboard Foundation volunteer from the United States, I have had the incredible fortune of traveling and serving at orphanages and international schools in Manila and Coron for the past couple months. With Betta Sylverio's guidance, I embarked on my journey to meet the next generation of Mangyan children at the Ezer School of Naujan. Here, they are integrated with provincial students and welcomed to pursue new and old worlds of thought through education. The school's primary goal is to acknowledge the cultural contributions of the Mangyan people, unlike so many people in the Philippines, and provide their children with an academic and holistic education.
The community at Ezer School recognizes the Mangyans as a historically peaceful people amidst several ancient warrior tribes. Instead of pursuing conflict and expansion, the Mangyan tribes developed their own script for their dialectal language. The people often remarked on their personal histories through marking pieces of bamboo with their text. It was common for them to leave each other bamboo carved poetry and stories, which were often accompanied by telling symbols and images. The writings that have been preserved indicate a genuine devotion to familial ties and interpersonal relationships, not unlike contemporary people in other places in the world. For more information about their sincerely stirring story and on-going endeavors to find the balance between cultural preservation and progress, please visit www.mangyan.org.
Alongside the mountain dwelling people, the Ezer School offers free food, housing, and education to its Mangyan students. The staff emphasizes the importance of personal growth and autonomy in the lives of the children. Those that remain on campus after school prepare their own meals throughout the day with resources from the garden the students implemented themselves. They also maintain school building facilities and dormitories under the supervision and instruction of their teachers. Students are encouraged to search and define their spiritual practices through weekly discussion and lectures. While the school is close to home for provincial students, children from the Mangyan tribes live far from their families and visit them only once or twice a month. The students' time at Ezer explores many facets of learning through exposure to agricultural development, structured academic curriculum, and sustainable living practices.
---
---
My personal challenge was to catalyze questions, innovative ideas, and the importance of individual thought and reflection while simultaneously tattooing the history and ways of their people to my mind in the hopes of preserving not only the children's stories, but also that of their ancestors. To do this, I gathered materials to make paper journals for each of the students and envelopes to house letters to their future selves. For each of these programs, I designed prompts and questions to stimulate story-telling and review of personal values such as, "When was a moment you felt proud of yourself or something you did?" and "What is important to you that you want to remember years from now?" Perhaps most importantly, I made time during class to practice conversational English with two students at a time. It was here that I found the small, quiet things that connect us all in a sea of diverse experiences. One student had no higher calling than being as fast as the superhero, Flash, and would fly in and out of sight to show me so. Another loved to draw, but especially fish because their scales of varying shapes and sizes reminded her of home. Two high school students told me that their favorite part of the day was in the evening right after sunset, when they would walk to the far reaches of the school garden to sit on the fence and take in their favorite colors. A younger student held her ability to sing close to her because she said that's how she talks to God. A student who had been given teaching responsibilities in the grade school teacher's absence expressed that sometimes she forgot to miss home because her brain lived in a future far away. A 3rd grade student took my hand whenever he saw me and placed it on his head because that was what his older sister use to do when they were together. It is the intricacies of each person, not merely their circumstances that knit our lives together.
The significance of these thoughts was strengthened when I found a student from the Mangyan tribe sitting across from me. She was tapping the freckles on my fingers and tracing the lines between to make constellations. She looked up and asked me, "What is your purpose here?" A beat or two passed before I said, "I'm here to learn your stories and share some of my own." One of her eyebrows knit the next as she replied, "You want to know your kaluluwa (soul) lives side by side mine?" During my stay at the wonderful Ezer School, I spent many evenings looking past the building and finding what I thought was many low lying clouds, purple-gray in color. After several more looks, I found that they were actually one massive mountain. Both experiences made me feel like I only just now realize what it really means to see.
Alongside the meaningful exchanges of thoughts and stories, I witnessed the physical labor of post-typhoon repair efforts that included re-establishing their garden, fixing students' desks, and replacing the roofs of several buildings. While the spirit to rebuild the facilities and develop their mission to provide a complete education, a healthy environment, and new opportunities for the students, provincial and Mangyan alike, remains strong and full of purpose, staff struggles to consistently provide basic needs such as nutritious food, clean water, and clothing. Their efforts hold resilience despite the challenge of meeting the Department of Education standards with their continual lack of funds and resources. Springboard Foundation is happy to endorse this school's purpose as well as recommend the addressing of certain needs and we welcome all of our supporters to do the same. The weight of their circumstance and miracle of connection move within and without me. This world is so often wrought with struggle, but is not without hope because of the thought and time dedicated by the people that believe in our interconnected experience. If ever there was a cause worthy and deserving of interest it is theirs, so if you would like to contribute, no amount of help is too small, please select the "Donate" button on this page.
Dani Clark