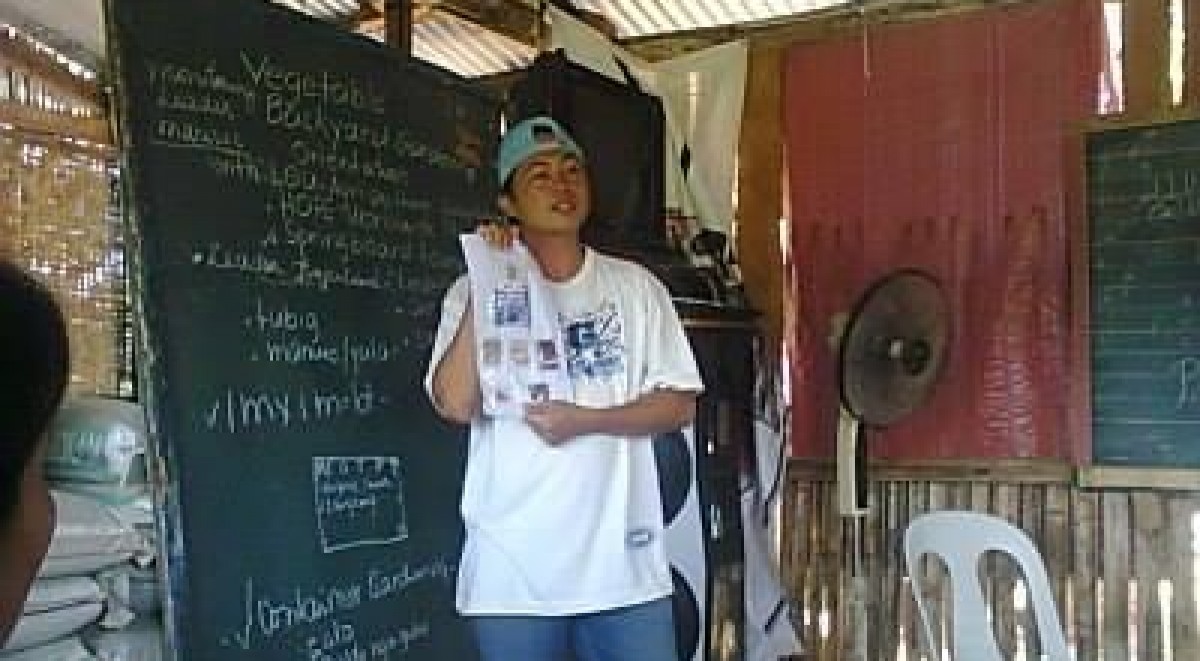 April  2014
Growing vegetables in Lower Bantigue, Daanbantayan
While supervising the family profiling for the 100 families who will receive materials to rebuild their homes, Amelia "Amy" Sotelo from Springboard Foundation, who is an agriculturist, conducted a workshop on April 3rd for vegetable growing in Lower Bantigue, Daanbantayan, Norther Cebu.
The earth in Lower Bantigue is rocky and loamy. Very few families grow some coconuts and bananas in small patches. Only 6 families grow vegetables in a less than a square meter garden. The majority of the residents buy vegetables from the market if they have any money. At this time very few families can afford to pay for vegetables. They eat their rice with a little bit of dried fish or just have it with a little coffee or some boiled corn-grits. With the backyard gardening livelihood project, they can produce vegetables worth about Php (Philippine Pesos) 100 per day per family and can improve the quality of life and health in the community. Only few families earn more than PhP100 per day.
123 mothers attended the vegetable gardening workshop at Lower Bantigue,Agujo,Daanbantayan last April 3rd 2014. Free Pinakbet (Okra, Squash, String Beans, Eggplant, Ampalaya/Bittergourd and Tomato) vegetable seed were organized by Springboard's agriculturist Amelia Sotelo from the Agriculture Department of the Municipality of Daanbantayan. An experienced, respected woman of the community named Betty will house and care for the seedbed that was planted last April 8th while Marivic, a motivated, trusted and hardworking Mum will monitor the progress of the growth. The seedlings will be ready to be transplanted into the 123 households in May. These vegetables will mainly be used for their own consumption but more vegetables can be planted in the future for possible selling in the local market as a source of income. For example camote or sweet potatoe leaves are sold at Php 30 per bundle.
In the pictures below you can see Amy together with women of the community and the Municipal Agriculture Office technician, Charlene Gastador.
Future projects we would like to do include:
a. Native Chicken Production: This is a lucrative economic enterprise for home consumption and eggproduction as well as income from sales. Some families have two or three native chicken in their backyards. They are raised in cages to keep them safe. The construction of these cages might be a good opportunity for volunteers to help the families.
b. Vermicomposting to produce organic fertilizer. Earthworms and kitchen wastes and carabao/pig manure feed the worms in a bed of soil. After one week, the vermicast is available as fertilizer and an excellent agent to increase the growth of vegetables. We can have additional training with the Agriculture Technologist assigned in the area and hands on demonstrations to make the process easily understood for the community