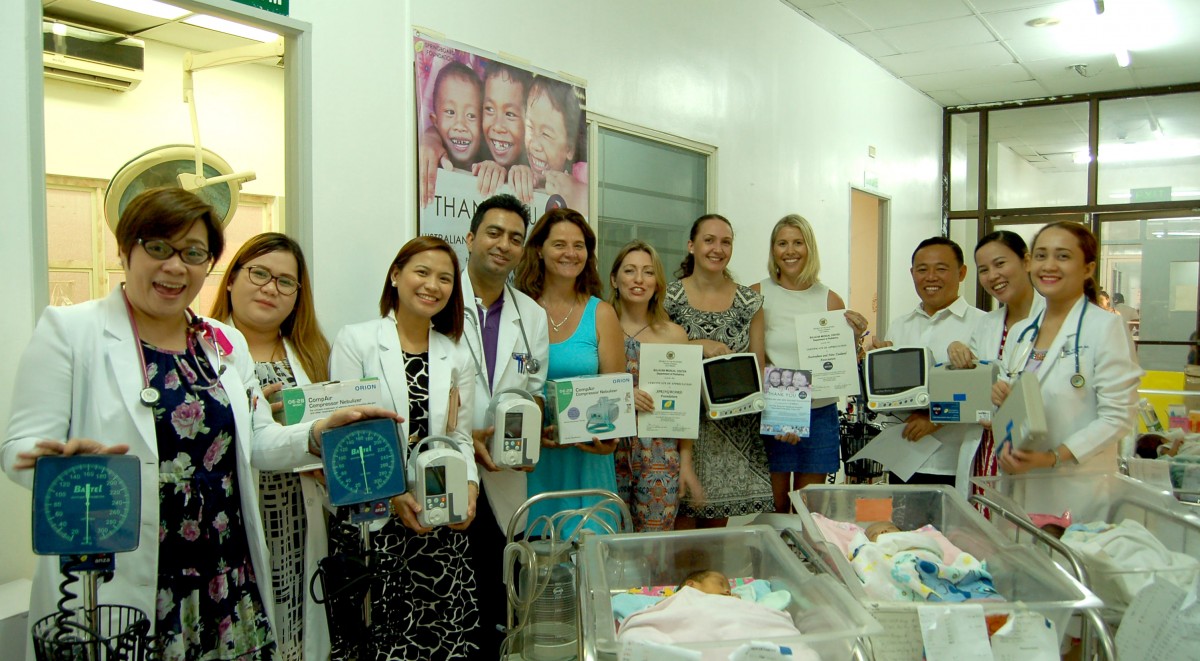 ---
It only takes a few moments for a baby to die when you don't have the right equipment to save them. When Springboard was first invited to visit Bulacan Medical Center, we were shocked to see the lack of even the most essential equipment to treat newborns with severe health problems in the neonatal intensive care unit.
The amazing ANZA (Australia New Zealand Association) raised a staggering PhP 1.4 Million through their 'Golden Cinema' themed annual ball. The proceeds from the ball will be released in two tranches. The first tranche was used to purchase  the following medical equipment for the Neonatal Intensive Care Unit: 4 blood pressure apparatuses, 1 suction machine, 2 infusion pumps, 2 cardiac monitors, 2 Laryngoscopes, 2 baby weighing scales and 6 nebulizers. The second tranche will be released later this year once the staff in the Neonatal Intensive Care Unit identifies what additional equipment will best serve the needs of their premature patients.
The Neonatal Intensive Care Unit takes care of babies born with severe health problem such as infections, heart and lung problems and premature births. A premature birth is any birth that happens more than 37 weeks before a baby is due. Babies weighing as little as one single pound can be saved when all the right equipment is there. These tiny, defenceless humans have a hard start already to life because of their premature arrival and for many; they have an even harder fight to fight due to their geographical location and social economic background of their parents. They have no choice or control over their future, just blind chance whether they born within a well-funded private hospital or into an under equipped public hospital. Figures from the UN  show that child mortality has reduced by over 50% since 1990. Despite the big decrease, the number of premature deaths worldwide in 2015 was still high, just shy of 6 million. A figure that equates to the combined populations of Berlin and Paris dying in the space of 365 days.
---
---
Doctors in the unit are dedicated to their jobs, they often work 36 hour shifts, have 8 hours off before returning to another 36 hour shift within an overwhelming ward were they are bombarded by the relentless sound of different beeping machines, babies crying, a constant tide of people coming and going and antiquated equipment. Cribs with premature babies in are lined up in the corridor leading up to the entrance to the ward, there appears to be no security, a dilapidated birthing chair, patched up with bits of card and off cuts of wood, sits menacingly in a room to itself. Talking to Dr. Prajwol Bhurtel, a Nepalese doctor describes the differences in the working conditions between the developed and developing world. How, many machines, such as respirators are automated in the West to do simple life saving processes whilst here in the Philippines, these jobs are done by hand. Precious time and manpower taken up by something that can be done effortlessly by a machine.
Please watch this to find out about how the donated equipment has helped the patients and staff, as well as finding out more about the second tranche of equipment.
If you would like to get involved or to donate to any of our medical projects or any other project please visit the donate page or drop us a line. We would love to hear from you.
---